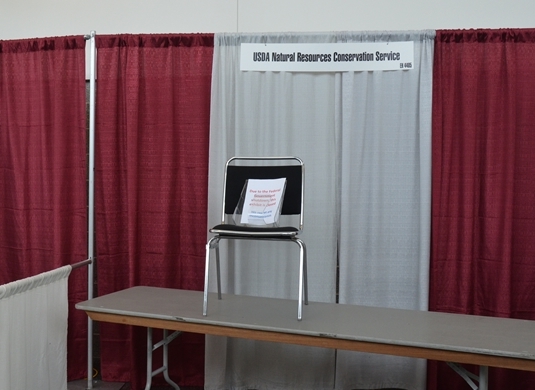 Agencies and programs feeling the effect include NASS, ERS, AMS, USDA's website and E-Verify.
Source: Western United Dairymen Weekly Update
A host of pricing reports issued by the federal government have been put on hold as a result of the federal government shutdown.
Employees at the National Agricultural Statistics Service (NASS), Economic Research Service (ERS) and Agricultural Marketing Service (AMS) have been furloughed. Data reported by these agencies will be on hold. USDA's Dairy Market News is closed along with its daily and weekly reports.
The monthly Dairy Products report was not issued Oct. 4. Unless the Administration and Congress come to an agreement, several others will be suspended, including the October Milk Production report, which would have resumed milk cow numbers and output per cow data, stopped because of the sequester. Other affected reports are the Cold Storage, Livestock, Dairy & Poultry, World Ag/Supply/Demand Estimates, and Ag Prices reports.
---
Dairy economists Mark Stephenson and Andrew Novakovic discuss the impact of the government shutdown on the dairy industry
in this 13-minute Skype video
.
---
USDA will not publish the weekly National Dairy Products Sales Report (NDPSR), AMS-surveyed dairy product prices used to calculate federal order Class milk prices, as well as settlements for Chicago Mercantile Exchange (CME) futures.
Remaining on the job are USDA dairy graders and inspectors, as well as federal milk marketing administrators, as their funding is provided by the industry.
Due to the federal shutdown, USDA Dairy Market News (butter, cheese, milk production, and dry products) won't be released until the shutdown is over.
USDA turns off its website
USDA has turned off its entire website in response to the government shutdown, leaving farmers, reporters and others with no way to access any of the agency's information online. A visit to usda.gov sends readers to a "funding lapse" page that reads, "Due to the lapse in federal government funding, this website is not available. After funding has been restored, please allow some time for this website to become available again."
The USDA page gives readers no way to enter the department's main website and access information that was posted prior to Oct. 1. Instead, it directs readers to three other sites, including a White House page, that describe the Obama administration's response to Congress's failure to pass a 2014 appropriations bill.
Most export services escape shutdown, but dairy impact substantial
A number of services necessary to facilitate U.S. dairy exports will remain intact during the federal government shutdown that began Oct. 1, reports the US Dairy Export Council. AMS Dairy Grading will continue to issue health certificates. The AMS website is offline, so USDEC uploaded all the fillable Word document certificate applications to Volume 2 of the U.S. Dairy Export Guide: Health Certification and Inspection Requirements.
APHIS fee-for-service operations will also continue, so regional vets will still issue health certificates. However, USDEC encourages exporters to check with local APHIS offices to find out whether staff reductions might slow response times. The APHIS website was still operational at press time, so the fillable APHIS certificate forms are still accessible on the APHIS website.
E-Verify system affected by federal government shutdown
The Internet-based system that employers use to check whether job applicants may legally work went dark as U.S. agencies limited or cut off electronic communications businesses use in everyday tasks. Websites that shut down included the E-Verify site run by the Department of Homeland Security's U.S. Citizenship and Immigration Services, and the agency sites of the Census Bureau, Agriculture Department, National Aeronautics and Space Ad-ministration, Library of Congress and the federal and international trade commissions.