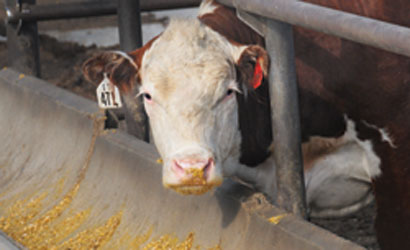 Provided we don't have another drought year, livestock producers could see a substantial decline in corn prices.
 
After paying through the nose to feed livestock last year, cattle producers who attended the 2013 Cattle Industry Convention were told they may get a reprieve during this marketing year.

"We're looking for corn prices in 2013 to average about $6, a dollar lower than in 2012," said Chad Spearman, a grain market analyst for CattleFax. "That's a substantial decline, with the lows coming near the fall if not earlier, weather permitting."

Spearman's forecast, of course, depends on several critical variables outside his control. First, he isn't forecasting another major drought in 2013, though temperatures may continue above normal. He also expects planted acreage to increase during the 2013 marketing year. And finally, import-export trends can't change much.

Like other agricultural economists, Spearman expects producers to maximize acreage in 2013 due the potential for higher-than-normal prices. He forecasts that corn acres will grow by 1 million to 1.5 million acres, reaching 98 million acres. Soybean acres will also increase, from 77.2 million to 79 million acres. Finally, acres devoted to wheat will rise, too.

In the meantime, he expects yields to rebound from last year's 124.3 bu. per acre, the largest deviation from trendline since 1988. If production returns to the trendline, the country would harvest 157 bu. per acre, which translates into a 14-billion-bushel crop. But even if production dropped to 150 bu. per acre, we'd still have a 13.5-billion-bushel crop, given that we're producing on 98 million acres.

"This would be the first time in several years where we have production actually larger than total corn usage for the marketing year," Spearman said. "In other words, we'd rebuild the stocks of corn back from the historically low levels we've been dealing with in recent years."

Excess production would mean lower prices, said Spearman, who closely tracks stock-to-use levels of corn and other grains. They have ranged from 5.3% to 5.8% so far during the current marketing year, the lowest ratio since the 1970s.

"With a larger crop, we'd expect to see stocks-to-use for the new crop to move up to that 10% to 12% region," he said. "If we do see stocks-to-use levels of that magnitude, we would see substantially cheaper corn prices coming into the fall timeframe.

"The question is, when does that occur? We're going to have to go through a transition period. We are rationing old crop, but weather is a major factor here as we move forward. Sometime between June and September-October, if we do produce a crop of that size, I think we will be transitioning into substantially lower prices."

In the fourth quarter of this year, Spearman forecasts that corn prices — currently in a $5.80 to $6.80 per bu. range — may dip to the $4.50 to $5.50 dollar per bu.l range. That assumes a 12% stock ratio. He said hay prices could be "substantially lower" next fall as well, even though stock-to-use levels are at a 10-year average.

World stock-to-use levels for corn are critically low as well, even though high prices in the United States have led foreign corn producers — particularly in South America and the Ukraine — to gain inroads. In fact, corn production growth outside the U.S. has outpaced this country in recent years, Spearman noted.

"Going back to the 2000-2001 marketing year, the U.S. produced approximately 40% of all the corn in the world. In the current marketing year, you've seen that decline to 32%. There's been so much more growth outside of the U.S., especially after the drought of 2012," he said.

The uptick in world production has allowed the U.S. to ration its corn production. The country is exporting less corn — "exports are expected to drop below 1 billion bushels, the lowest levels since the 1970s," Spearman said — but U.S. ethanol producers are using less as well. Ethanol production, Spearman said, dipped substantially after corn prices rose to record highs last summer.

"We are seeing major imports of ethanol, from Brazil mainly, and the U.S. has become a net importer of ethanol in the last several months," he said. "In fact, imports have risen to the highest levels since 2008, back when the industry was still growing to keep up with the [renewable fuels] mandate. That's what needs to happen."

Spearman made a case for taking away incentives for gasoline blenders to use ethanol. If the U.S. produces 4.5 billion bushels during the current marketing year, he said, that would "fall short of the amount of ethanol needed to meet the renewable fuels standard for the calendar year for 2013." The result: higher prices.

In the meantime, Spearman isn't seeing as much demand rationing from the feed sector as he expected. "Pork and poultry production is expected to be flat this year. We would have expected to see some cuts with prices as high as they have been."

Corn prices may stay high until June, as market transitions from old-crop to new-crop, Spearman allowed. "We expect spot corn prices to continue to find major resistance around the $7.65, $7.75 per bu. area, and find major support from the $6.85 to $7 per bu. area on into the month of June."

Meanwhile, if the variables in Spearman's forecast prove accurate, "substantially cheaper hay prices" may result.

"We have to keep in mind that we also took a major production hit to U.S. hay in 2012," he said. "Hay stocks on Dec. 1, 2012, fell to the lowest level since 1957 and we've seen record-high prices as a result of that. If we see those lower commodity prices, and a much larger production level come next fall, we could see substantially lower hay prices."