Sale barn receipts were mixed this week, with location and timing being the largest determinants of cattle price. Prices strengthened as the week progressed. 
Forage availability, or lack thereof, is becoming an extreme problem with producers from Kansas through Texas. There is no forage available for winter grazing and winter wheat is dependent upon much-needed rains that need to start as soon as possible. 
Live cattle trade was steady to $1.00/cwt. higher for all trading regions for the week ending Sept. 2; cash price in Texas was $113.00/cwt. Corn made new contract highs midweek; however, the contracts were unable to maintain that momentum as the market ended the week $0.07/bu. lower than the previous week. 
With basis, cash corn price continues to be well above $8.00/bu. for many cattle in the Southern Plains feeding region. Although the market may be due for a correction, there is little information that suggests this year's harvest will give any relief to an already short supply commodity. Pro Farmer estimates yields at 147.9 bu./acre, FC Stone estimates yields at 146.3 bu./acre, and today's estimate from Informa is 151.0 bu./acre. USDA will release its estimates later in the month. 
Costs of production continue to increase, and even as we begin the fall harvest for corn in the U.S., light yields may force corn to price levels not seen before. In addition, the supply of feeder cattle may cause calf and stocker prices to remain strong through the fall. The old rule of thumb that feeder prices trade inversely to corn price does not necessarily hold true in today's markets.  Another question left to answer is whether the live cattle market can rally to offset these higher input costs. Exports remain strong for beef and until that market weakens, the live cattle trade may hold steady and strengthen in the coming weeks.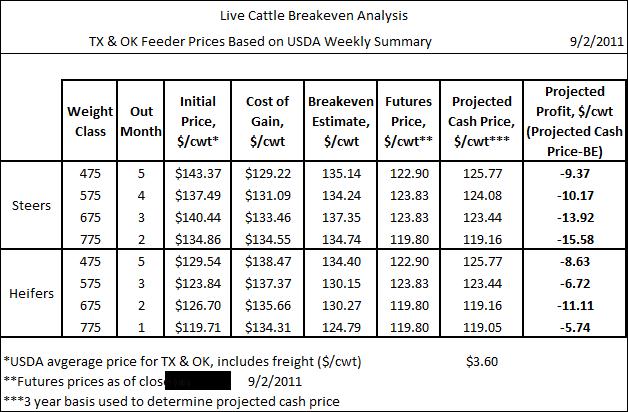 Weekly USDA feeder cattle prices for TX and OK were used to calculate projected break-evens on cattle bought last week, week ending Sept. 2, 2011. Break-evens were calculated for each weight group within sex (steer and heifer). Ration price, $/ton dmb, was estimated at $370. Other variables including interest, yardage and % feed financed were estimated to be 6%, $0.05/d and 100%, respectively. As it is known that actual input estimates will vary greatly by region and by yard within region, our goal is to illustrate pricing differentials between weight classes and sexes of cattle.