As early-planted soybeans move into R7—the beginning of maturity—Farm Journal Field Agronomist Ken Ferrie reports he is seeing more issues with pod feeders (mainly grasshoppers), nematodes, and sudden death syndrome (SDS).
"With the crop so near maturity, it's hard to know how much yield impact SDS will have at this point," says Ferrie, owner of Crop-Tech Consulting, near Heyworth, Ill.
Iowa State University Extension defines the R7 growth stage as when "one normal pod on the main stem has reached its mature pod color." (See photo and chart below, both courtesy of Purdue University.)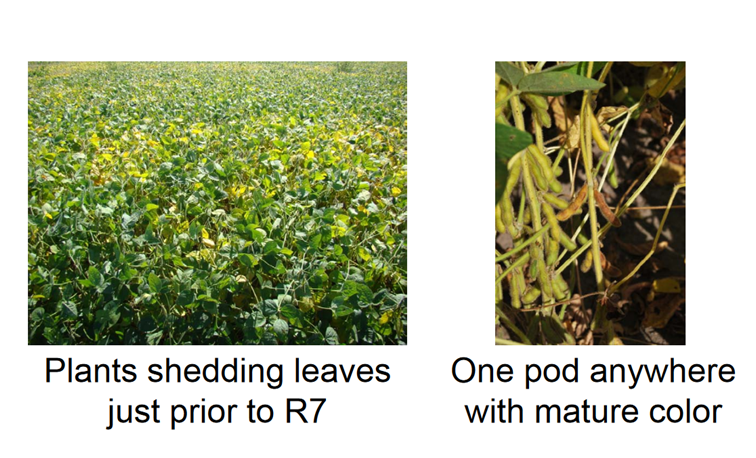 Keep in mind that when determining the growth stage of your soybean crop, that a growth stage begins when 50% or more of the plants are in or beyond that stage and that growth stages tend to overlap. Here are the reproductive stages for soybean development and duration of days, on average, for each one.

In the following podcast, Ferrie address agronomic issues he's seeing this week in soybeans and corn. In addition, he shares some insights on crop development from a conversation with Adam Spelhaug, Peterson Farm Seeds, near Fargo, N.D. You can listen to Ken's full report in this week's Boots In The Field here: