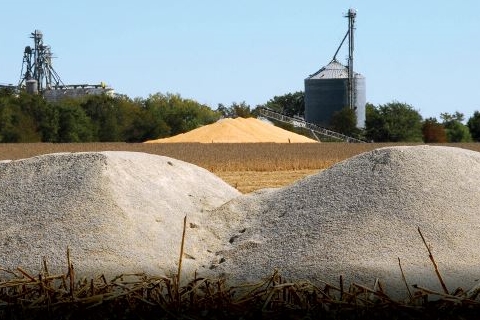 Yara International ASA and CF Industries Holdings Inc. terminated their talks to merge and create the world's largest maker of nitrogen-based fertilizer.
"Although we identified very significant operational and structural synergies, we were ultimately unable to agree on terms of a transaction that met the requirements of all our respective shareholders," Deerfield, Illinois-based CF's Chairman and Chief Executive Officer Tony Will said yesterday in a statement.
The talks, confirmed by both companies on Sept. 23, fell apart amid pressure from Norwegian politicians to keep the combined company's headquarters in Oslo while maintaining the size of the state's shareholding. Yara last week ousted Chief Executive Officer Joergen Ole Haslestad for not being the "right person" to lead the merger negotiations. His designated replacement also dropped plans to join the company.
"In the end it became clear that we would not be able to agree on terms that would be acceptable to all shareholders," Yara CEO Torgeir Kvidal said in a statement today. "We have a strong pipeline of attractive growth opportunities."
CF fell 3.4 percent to $245.27 in New York. Yara rose 3.2 percent to 302.9 kroner in Oslo.
Tax Inversion
Another obstacle to a deal was the new set of U.S. rules that make so-called tax inversion deals more difficult, said Mark Gulley, a New York-based analyst at BGC Financial LP. Relocating its tax domicile outside of the U.S. may have been an important consideration for CF, Goldman Sachs Group Inc. said last month.
The Treasury Department announced its crackdown on tax inversions the day before CF and Yara said they were in talks about a "merger of equals."
The CF-Yara deal "was a head-scratcher from the get-go," Gulley, who recommends buying CF and doesn't have a rating on Yara, said by phone yesterday. "I didn't see the synergies."
Combining the fertilizer makers would have created a company with about $20 billion in sales. There would have been little geographical overlap as CF's manufacturing assets are in the U.S. and Canada while more than 80 percent of Yara's sales come from outside the two countries.
There were also savings to be made by taking advantage of Yara's global distribution system and CF's access to lower-cost North American natural gas.
State Stake
Gas is used in fertilizer manufacturing to capture nitrogen from the air in the Haber process, named after German chemist Fritz Haber who developed the technique in the early 20th century. The advantage of doing that in North America is dramatic: CF's operating profit margin was 43 percent last year while Yara's was 9.2 percent, according to data compiled by Bloomberg.
The Norwegian government owns 36 percent of Yara, whose local roots date back to 1905. Political parties representing a majority of the country's parliament supported the idea of spending state money to keep the stake in the merged company at more than 34 percent. They also said they wanted CF-Yara to be based in Oslo.
Citigroup Inc. and ABG Sundal Collier Holding ASA were advising Yara. Morgan Stanley and Goldman advised CF.