One of the core missions of the Future Farmers of America (FFA) is to develop competent and assertive agricultural leadership. This year, the organization is fueling that potential industry leadership at record levels, with membership now totaling 610,240 students throughout the U.S., Puerto Rico and the Virgin Islands. Membership is now the highest it has ever been, up more than 30,000 from last year.
"FFA, through agricultural education, is preparing our youth to ensure the security of our country's food, fiber and natural resources for years to come," says National FFFA Organization CEO Dwight Armstrong. "Through real-world experiences, the nation's agriculture teachers are helping students develop the technical knowledge, skills and problem-solving capabilities to be the industry's leaders of tomorrow. FFA members will be tomorrow's advocates for agriculture."
The following map helps visualize a state-by-state look at membership.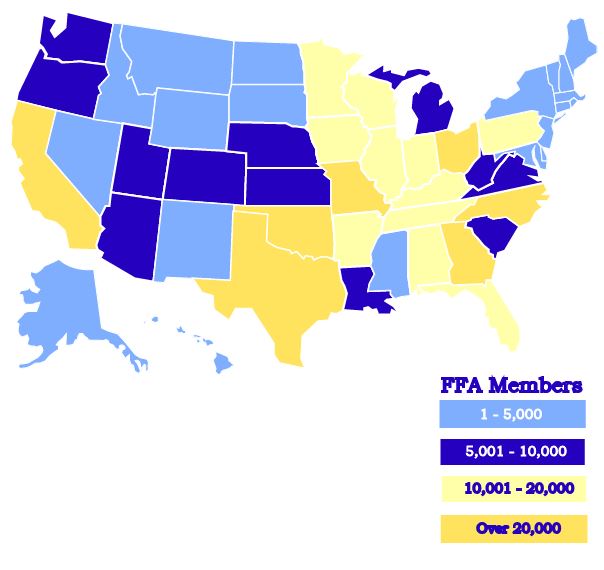 The individual states with the biggest rosters include:
Texas – 103,379
California – 76,470
Georgia – 37,698
Missouri – 25,935
Oklahoma – 25,561
Ohio – 23,396
North Carolina – 20,119
Wisconsin – 19,191
Illinois – 17,595
Florida – 17,209
FFA operates at the local, state and national level. Students below to FFA chapters organized that the local high- or middle-school level, and many students continue membership while at colleges or technical schools until they turn 21.
For more information, visit FFA.org.