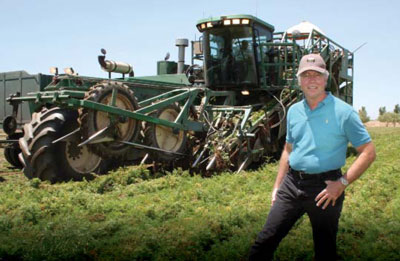 Learn to recognize false workers' compensation claims
After 16 years on the job, Joel Sherman is good at spotting red flags. The director of safety, workers' compensation and regulatory compliance works at Grimmway Farms, the nation's largest carrot grower, packer and shipper. The company, based in Arvin, Calif., employs 5,000 full-time and 2,500 temporary workers. Most stay safe on the job and abide by the law. Yet every once in a while, someone tries to game the system. 

One employee, Sherman recalls, reported on a Monday morning he had sustained an injury while working the preceding Friday evening. The late reporting of the claim proved to be flag No. 1. The employee claimed he had caught his hand in machinery, but the company's investigation revealed such an accident would have been impossible with the equipment's safety gear. 
Fraud Penalizes Farms. Another red flag appeared when the employee changed his story, saying he had actually smacked his hand against the machinery while carrying a bag of produce. A doctor's report revealed a classic boxer's fracture in the employee's hand, an injury inconsistent with the employee's accident account. The company ultimately learned the employee had broken his hand in a weekend fight. 

Sherman doesn't assume every red flag or claim signals fraud. In fact, he estimates only 3% to 5% of all reported cases are fraudulent. Yet with workers' compensation a critical line in the annual budget at self-insured Grimmway Farms, he knows it pays to be alert.

"Workers' compensation fraud takes money from every worker in the state," Sherman says. "If the employer has to pay additional funds for insurance, those are dollars that can't be used for better pay and benefits for employees."

Workers' compensation insurance provides medical care and other benefits to employees who are injured on the job. It's mandatory in most states and is usually provided through private insurance carriers. In a hazardous industry such as agriculture, premiums can account for 8% to 12% of the payroll budget, Sherman points out.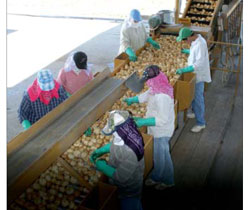 In an often-hazardous industry such as agriculture, workers' compensation insurance can account for 8% to 12% of the payroll budget. Fraudulent injury claims can drive costs even higher, increasing premiums.
Fraudulent claims can result in costly medical bills that drive up policyholders' premiums. If caught, offenders can lose their jobs, pay fines and even do jail time. 

"No one knows how big the fraud problem is because it can't be measured," says Don Marshall, vice president of the anti-fraud program for The Zenith Company, a nationwide insurance company. He's also chairman of California's Fraud Assessment Commission. "It often goes undetected because of complacency in the workplace and the inability to identify what fraud is."
Tips To Spot Fraud. Knowing what to look for can help reveal troubling patterns and, eventually, fraud. "The presence of any one or more red flags does not mean fraud," Marshall says, "only that the claim should be looked at closely."

Marshall urges business owners to develop a well-defined safety program, which can help identify gaps and flaws that need fixing. In turn, that can help control workers' compensation injury claims, both legitimate and fraudulent.

Communicating regularly with employees can also help. "If your supervisors are out there listening, they're going to hear and know things," Marshall says. 

If you suspect workers' compensation fraud, report it to your insurance carrier, he emphasizes. "Don't do the investigation on your own," Marshall says. "There are significant civil issues, and you could be sued if you do it wrong."
---
Instill Good Safety Measures For Your Employees
At Schohr Ranch about 60 miles north of Sacramento, Calif., Tracy Schohr and her family run a 153-year-old rice and cattle ranch. The operation employs up to five full-time workers and up to 15 at planting and harvest.

"We have not had any fraud situations in recent years," Schohr says. "Our family works side by side with our employees, provides constant safety reminders, employs good supervisors and conducts regular, formal safety-training tailgate talks to prevent injuries."

Schohr Ranch thinks it's important for farmers to keep good records, including documentation of employee requests for, and explanations of, sick leave. The operation asks employees who are out for any medical reason to provide a doctor's release to perform the duties listed in their specific job descriptions. 

Each employee has an annual review that updates his or her job description. 
"It is important employees know what is expected of them and the conditions they are working in," she says. "Another tip is to try to have two employees working together on projects in the field and in the shop to enhance farm safety."
---
Watch Workers' Compensation for Red Flags
Don Marshall of The Zenith Company says injury claims can merit further scrutiny if the injured employee:
has injuries that are inconsistent with facts of the accident.
provides multiple versions of how the accident occurred.
refuses medical tests or examinations to confirm an injury.
stays out of work longer than the doctor prescribed.
protests about a modified position or return to work and never seems to improve.
has a suspicious history of reporting subjective injuries.
has a questionable identity, residence or contact details.
has experienced financial difficulties before submitting a claim and makes inquiries about a quick claim settlement.
is retiring, on probation, involved in a labor dispute, disgruntled, a poor performer or subject to disciplinary action.
is a new employee, nomadic, a seasonal worker or on short-term employment.
is never at home, does not answer the telephone or avoids the use of U.S. mail.
is unusually familiar with the workers' compensation system or terminology.
      
In addition, an employer might want to take a closer look if an accident or illness:
lacks witnesses.
occurs late on a Friday afternoon (especially if not reported until Monday) or early on a Monday morning.
is not associated with the employee's job duties.
occurs in an area not frequented by the employee.
is not reported to the employer in a timely way.