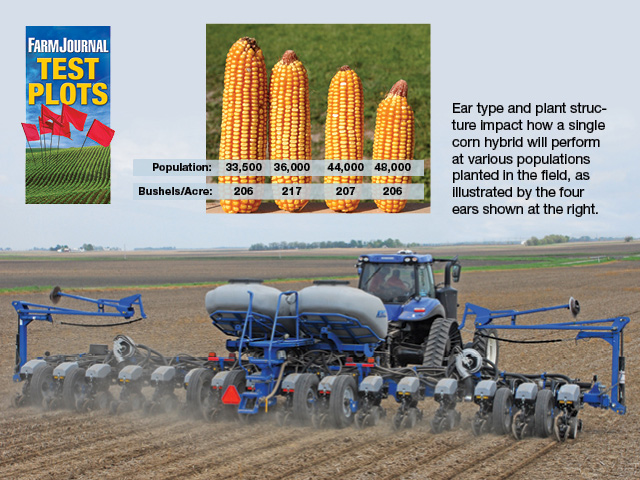 When you pour a bag of premium-quality seed corn into your planter, you're looking at a hybrid with the genetic potential to produce upward of 500 bu. per acre. So why is it the annual U.S. corn crop averages only 175 bu. per acre?
That question is one Farm Journal Field Agronomists Ken Ferrie and Missy Bauer, as part of the Farm Journal Test Plots program, have invested years of field research and thousands of hours into answering.
Certainly, poor weather conditions, weed competition and insect and disease damage do their part to keep the lid on yields. But both Ferrie and Bauer say there are missing links—an information gap in the industry—that prevent farmers from making hybrid selection and management decisions that could maximize yield results.
"We need another level of knowledge about hybrid genetics, beyond what we currently have available, to select hybrids and manage them better in the field," Ferrie says.
For instance, some hybrids prefer more nitrogen at the front end of the growing season, while others will add yield from nitrogen applied as late as 30 days before harvest. Still, other hybrids respond best to split applications.
If you knew that level of in-depth information when shopping for hybrids, it would  influence which ones you'd buy, where you'd place them in the field and how you'd treat them during the growing season.
Ferrie says you can unlock the door to a deeper level of knowledge by understanding how hybrid ear type (flex, semi-flex, semi-determinate or determinate) and plant structure (upright, semi-upright, semi-pendulm or pendulum leaves) affect the development of the crop.
"Corn ear type dictates planting population, and structure affects plants' ability to capture sunlight," he explains.
Information on hybrid ear type and plant structure is readily available from only a few seed companies today. But with a little effort and practice, farmers can figure out the type of hybrid they're planting, Bauer notes.
She tells farmers to use the three Ps, placement, population and plant greenness, to get their arms around hybrid selection and management:
Placement—Consider the water-holding capacity in a field, preferably by management zone, as you evaluate what hybrid genetics and traits you need to buy. "If you have sandy soils, then managing water is going to be your top priority for hybrids during the growing season," Bauer explains. "If you say, 'I have deep black soils, water is not a problem,' then you want to place a more upright hybrid in that area, one that can capture as much sunlight as possible."
Population—Like Ferrie, Bauer says to consider the impact of ear type and leaf structure to determine planting population.
Plant greenness—If a hybrid flexes a lot in kernel depth, then late-season plant greenness will be important to maintain.
"Fungicide applications and late-season nitrogen might really increase kernel depth on these types of hybrids," Bauer says.
Ferrie takes the three Ps a step further by telling farmers to also consider when their hybrids flex.
"Our studies convince me that all hybrids flex," Ferrie says. "They flex only one direction—downward. In other words, if you plant a hybrid at a very low population, it will maximize ear size to its genetic potential; with enough sun and nutrients you might get multiple ears. [You want to grow a single large ear per plant to maximize yield.] As we crowd plants in the row, ears flex downward in size."
Based on four years of hand-harvested hybrid studies, in which Ferrie and a crew counted and weighed every kernel, they determined how much the hybrids flex by number of rows of kernels, ear length and depth of kernels.
"Some hybrids flex all three—girth, length and depth; I call them full-flex hybrids," Ferrie says. "Others, which we call determinate, flex only in depth of kernel. In between are some semi-flex and semi-determinate hybrids.
"Planting what I call full-flex hybrids is of somewhat higher risk," he continues. "While they can produce high yield at low populations, they don't handle stress as well as determinate hybrids. The determinate hybrids maintain their kernel count; the size of the ear gets smaller but the number of kernels on the ear stays the same. These hybrids handle stress better, especially at the front of the growing season."
Ferrie encourages farmers to ask their seed rep, in the process of evaluating hybrids this summer for the 2019 season, to explain how and when their respective hybrids flex. He shares an example of why that information is important:
"A semi-flex hybrid that flexes in length and depth will respond differently to certain growing conditions when compared with a semi-flex hybrid that flexes in girth and depth," he says. "Even if a hybrid flexes only in kernel depth, it could still flex (lose yield) by more than 60 bu."
Ferrie would like to see seed companies modify their  current seed corn rating systems to include hybrid flex details. Here are the four types of flex Ferrie has identified:
Girth (G): Flex in girth occurs from planting to V6.
Early Length (L1): Flex length takes place between V6 and VT.
Late Length (L2): Flex in length occurs from VT to R4.
Depth (D): Flex in kernel depth takes place between R4 and R6.
Ferrie says it's imperative to understand how to effectively select and place hybrids before you transition to variable-rate. "Most farmers think variable-rate practices add yield, and they can, but the best thing they do is mitigate the risk of huge yield swings from year-to-year, which can be a real killer," he says. "You can be better prepared to make the transition to variable-rate by understanding how hybrids perform now."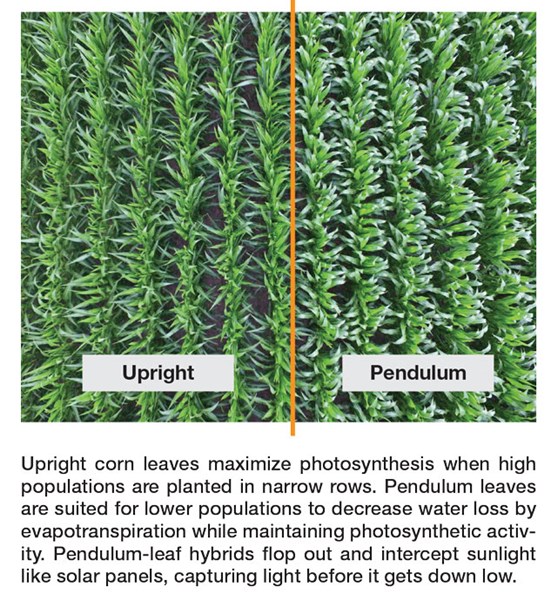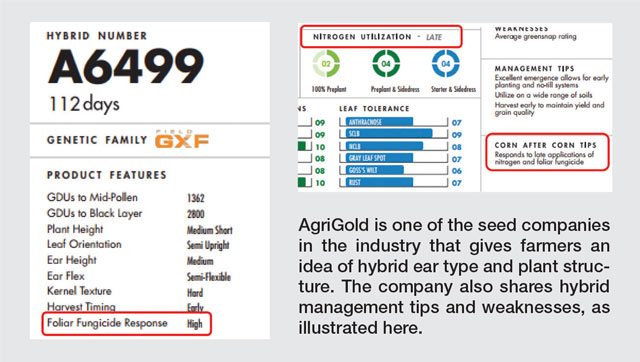 ---
Thank You to Our Test Plot Partners
We appreciate the equipment, seed and time provided by the following: AgriGold; Can-Am; Case IH; Central Illinois Ag; Fast; Great Plains Manufacturing; Kinze Manufacturing; New Holland; Unverferth Manufacturing; OmniStar; Trimble; AirScout; Crop-Tech Consulting employees and customers; B&M Consulting employees; Terry Finegan; Bob Kochendorfer; and Jim Caldwell
---
Farm Journal Test Plots Pledge
You can count on our test plots to be conducted on real farms with real equipment using a high-touch set of protocols. The information will be completely independent and actionable. Our hands will always be in the dirt researching the production practices and technology that are best for you.
To learn more, visit www.FarmJournal.com/testplots