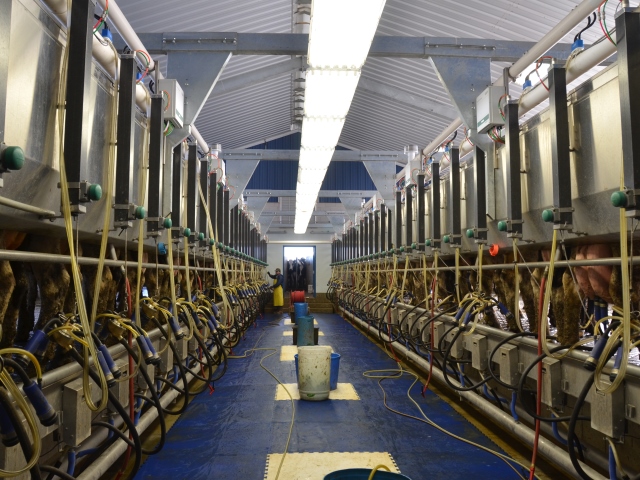 An effort to provide financial relief to New Hampshire's dairy farmers strained by last year's drought survived a challenge in the House on Thursday, with some opponents calling it a taxpayer funded bailout.
The drought forced many farmers to spend more on livestock feed, and some reduced their herds to save money. The state had 115 licensed cow-only dairies in October, down from 123 in January 2016.
"Many have slaughtered young calves along with milking cows, delayed repairs to farm tractors," said bill supporter John O'Connor, a Republican from Derry. "Spouses have taken on second jobs to sustain them and have done all they can to get through the winter. The forage and hay they are purchasing comes from the Midwest or Saskatchewan, at an extremely high price."
House members voted to adopt a committee recommendation that up to $2 million for dairy farmers be distributed through a formula. They also approved an amendment from Republican Rep. Neal Kurk, of Weare, allowing farmers to choose whether 2014 or 2015 was worse, and avoid "double-dipping" if they already receive crop insurance. Proposals to table the bill or replace it with a measure asking for donations for the farmers failed.
Kurk was part of a task force that worked on a plan to help the state's dairy industry. He also chairs the House Finance Committee, which would normally take up the bill next. Kurk, instead, invoked a legislative rule allowing it to head back to the Senate, where it originated.
Greg Moore, director of the conservative group Americans for Prosperity, said bypassing that committee and avoiding the normal budgetary process means that dairy farmers won't have to compete with other state interests for funding, making it a higher priority than the opiate crisis, services to the developmentally disabled and education.
"That is precisely the wrong message to send," Moore said in a statement.
Bill opponents asked why dairy farmers would get special treatment over others that have dealt with weather issues, such as peach tree and Christmas tree farmers. O'Connor said those businesses fall in a separate category for support in the federal Farm Bill. He said the dairy bill would provide disaster relief to a group that suffered unprecedented losses and has no control over the low milk prices, which are set by the federal government.
Unlike some other dairy producing states, New Hampshire doesn't provide regular assistance to dairy farmers. In 2007, the state gave dairy farmers a one-time emergency payment of about $2 million for low milk prices. An emergency fund was later created, but it's never had any money.