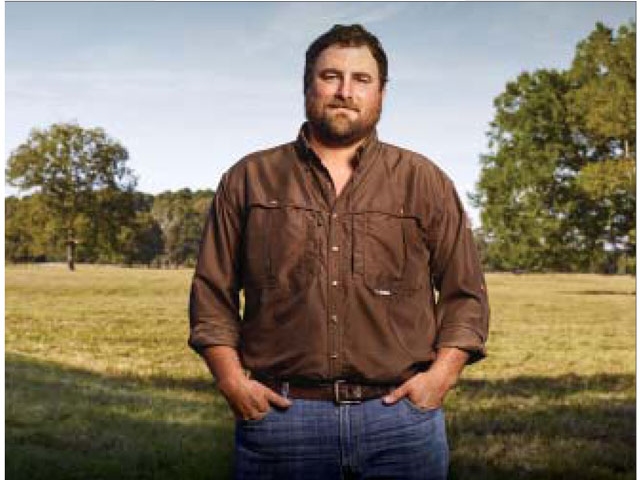 This rookie generation is blazing new trails in agriculture—and has the battle scars to prove it
By Chris Bennett
Eyes wide shut, the gravedigger's son walked away from mortuary school into a bank office and scrawled his name on the last line of farm loan paperwork. He'd bought a ticket to the high-stakes arena of agriculture. 

The banker's words still ring in the ears of first-generation Arkansas farmer Andrew Hartshorn: "Son, you've gone from digging other folks' graves to digging your own."

The extreme costs of land and equipment, coupled with the need for deep farming knowledge, are increasingly shrinking access into agriculture for first-generation farmers. Getting past barriers is difficult enough, and clearing the success hurdle is singularly rare. 

This month's cover story highlights some of the tenacious, hard-working men and women (see below) who are bootstrapping their way to a future in agriculture with little but real-time experience to go on. They each have plenty to lose yet much to gain. Hartshorn and entrepreneurs like him have an uncanny ability to see the potential of a big idea—like starting a farm operation from scratch—and to innovate entirely on their own terms, says Bruce Gjovig, an entrepreneur coach and director of North Dakota State University's Center for Innovation.

"They have to be good at opportunity analysis and finding an opportunity to exploit," Gjovig says. They have a higher tolerance for risk, avoid following the crowd and often start businesses in down markets. "You get to ride it up," he explains.
This article features individual stories of first time farmers. Click below to read a particular story:
---
Death And Dirt
Despite initial naivete, Hartshorn is a remarkable cut of producer who has found success by clinging to a combination of simplicity and consistency. His achievements are grounded in 
simple math rather than the shine of booming bushels. 

"You've got to have good yields, but more importantly you've got to have money in the bank at the end of the year. There's a balance between yield and input costs, and finding that balance is the key," says Hartshorn, 33. He farms 3,200 acres of corn, oats, soybeans and wheat in southeast Arkansas on slightly rolling ground just a few miles from the level land of the Mississippi Delta. 

Raised in a family involved in the mortuary business, the suit-and-tie fare grated against Hartshorn's core. "Even as a boy, I wanted to be outside in the dirt," he says.

Within months of finishing mortuary school, Hartshorn married a farmer's daughter. When he began working part-time with his father-in-law, Philip Lauhon, on his 1,500-acre farm, the die was cast. Hartshorn became consumed with a life in agriculture, and he told Lauhon he wanted the opportunity to work permanently in farming. 

Two weeks later, in an event equal parts destiny and blessing, 700 neighboring acres came open. Hartshorn jumped on the land, leased Lauhon's equipment and shared labor. "I was too stupid to be scared of my first loans," Hartshorn says. "It wasn't that big of a deal, but it should have been because I was 23 and had never farmed a day on my own in my life." 
Solid Footing
He farmed the 700 acres for four years and "nearly starved to death," but he had a toehold and a slow-growth plan. 

Yet farming is a graveyard of failed plans. In his fourth year, a disastrous rice crop left him with a $60,000 rollover. His doubts mounting, Hartshorn weighed whether to exit farming or to expand his acreage. 

Two days later, on the cusp of quitting, Hartshorn sat down for dinner with a neighboring farmer and received some unexpected news. "He told me his rice crop was even worse than mine and he'd just given up 2,000 acres. I said, 'What's your landlord's number?'" With a big acreage jump in tow, Hartshorn received a $300,000 FSA equipment loan and burned highway for every equipment sale he could find, piecing together a collection of iron to tackle the new ground. In 2010, the markets lined up with his learning curve and Hartshorn paid off the $60,000 rice-crop debt. 

What had been a toehold has strengthened to firm footing. Despite the market dip, Hartshorn's operation is gaining steam. He budgets for 200-bu. corn and 50-bu. soybeans, and he obsessively follows the markets for opportunities. "I keep it simple. I can't afford not to play safe because farming is already gambling," he says. "I have to book strong and watch the market."

Winter oats are booked by price, not acre, offering Hartshorn consistency. He can pay off the crop at a set dollar regardless of yield. 

Hartshorn leans heavily on his financial adviser, Wayne Beaty of 4B Company in Monticello, Ark. He comes close to booking his grain at the crest each year. 

"Don't be afraid to pay somebody to tell you where to put your money," Hartshorn says. "I can call Wayne any day and know exactly where I'm at financially. Sometimes it ain't good, but there's no excuse for a farmer not to know."

Ambition must be controlled and harnessed. Hartshorn turned down 700 acres in 2015 because of equipment needs and high rents. He relies on a tight group of older mentors for farming advice.
Team Effort
Even though increased acreage requires a larger managerial role, Hartshorn guards against the temptations of a truck boss-and-cab administration. He prefers to work with people who do not have heavy farm experience. "Sometimes, it's hard for older men to listen to someone my age," Hartshorn says. "I've been blessed with a great team. It's natural to lead younger guys." 

After 10 years in farming, Hartshorn bears a weathered look. He has switched from placing bodies 6' deep to planting seeds just over 1" beneath the soil surface. "Farmers laughed at me at first, but guess what? I deserved it because I was a little crazy," he says. "Now those same farmers respect my thick skin, and it's my turn to have a chuckle at some of these new guys." 
Read another farmer's story:
---
Fresh Ag Talent
The first-generation farmers you'll meet below didn't build their businesses with generous inheritances from relatives. They didn't enter farming as a hobby, nor did they map out an elaborate backup plan. Instead, they jumped headlong into the industry knowing full well the perils of working in an ever-changing sector. Here are some of the challenges and opportunities they've faced.
Toy Tractor Spurs Operator's Journey to 4,600 Acres
Andrew Fansler, 36, Shelbyville, Ind.
By Chris Bennett

In the Fansler Farms break room sits a John Deere pedal tractor Andrew Fansler received on his third birthday. It's a physical reminder of an unlikely journey: The city-boy-turned-farm operator planted his first crop at age 15 on 42 acres rented from his grandfather, and over the 21 years since, he's expanded his operation to 4,600 acres of rolling ground southeast of Indianapolis. 

"Growing up, I told everyone I'd be farming, and people thought it was cute that a city kid wanted to farm, but very few took me seriously," Fansler remembers. He spent hours farming for no pay with family friends and visiting his grandparents' tiny piece of land to watch tractors and dirt farmed by neighboring operators.

In 1997, Fansler located 37 acres for sale and crunched the numbers with his grandfather. "We went to the bank together, and I walked out broke; no concern or thought about paying the money back," he recalls. "I was 17 and wasn't worried about risk." 

His acreage grew steadily. He limited expenses by investing in the cheapest equipment he could find and placed a premium on customer service, differentiating himself from other producers by creating a pamphlet of marketing materials to explain his background and goals to landowners. One of the first farms Fansler visited was run by two brothers with a successful track record. "I still remember my shaky nerves as I walked in and sat down with them," Fansler says. "I looked up on the wall and there was a quote: 'Progress always involves risk; you can't steal second base and keep your foot on first.' I now use the quote every day."

He added operations manager Darin Richards when the farm reached 1,200 acres. 

Fansler is "not stuck on particular farming ideas because he doesn't have a family history in agriculture," Richards explains. "In other words, there's no copying grandpa for the good or the bad." 

Today, Fansler has built a $3 million business growing white and yellow corn, soybeans, seed soybeans 
for Pioneer, and non-GMO soybeans for export. Sales are made strategically based on which decision will produce the most revenue.

"We do sell a lot of our grain close by, but we price markets all over and seek out the highest price net, even if that means sending corn to river terminals or to the Gulf of Mexico," Fansler says. "Simply calling the local elevator every day so we can sell on the day they offer their highest price is not an effective strategy for us." 

Acquisition and management of top-shelf talent, all of whom are in their 40s or younger, also ranks high on Fansler's priority list. New staff members have improved the operation's record-keeping and financials, and the company is focusing on its budget, financial documentation and data analysis to understand where the budget stands at any given time. 

"We are able to function better, eliminating much of the guesswork and allowing us to not only collect data but to analyze, draw conclusions and make sound managerial decisions," he says. 

At the end of each year, Fansler provides his landowners with a completed packet detailing all activities from the crop season. He's developed proprietary software for farm maintenance and record-keeping and is developing software to manage farm-by-farm financials. 

"I'm always trying to get better at overall management," Fansler says. "Everything in our operation must work in the field and in the office." 

Conservation and technology go hand in hand at Fansler Farms. The operation uses no-till, cover crops, variable-rate planting, soil testing, tissue sampling, GPS-guided fertility application, yield monitoring and buffer strips. 
Read another farmer's story:
---
Kentucky Couple Tag-Teams Crops, Livestock and Family Life
Scott and Shea Lowe, 34 and 36,Murray, Ken.
By Nate Birt

Two high-school sweethearts committed to each other and their passion for agriculture, Scott and Shea Lowe have faced numerous peaks and great challenges along the road to farming. 

Yet they count themselves blessed to raise their children on a farm, something neither experienced. They grow 100 acres of dark-fired tobacco, a labor-intensive yet high-value crop; 800 acres of corn and soybeans on a yearly rotation; and raise black Angus cattle.

"In middle school, my neighbor hired me to be a farm laborer, haul hay and work in his tobacco," recalls Scott, who went on to grow his first tobacco crop on two acres in 2000 and married Shea in 2002. "That allowed me to grow and have a stronger passion for farming."

Early on, Shea worked for Murray State University, where she received her master's degree, to supplement their income from Lowe Farms. They now have two daughters, and the operation has given her flexibility to raise their children while returning to full-time farming as they have grown older. Scott handles planting and spraying in the spring while Shea helps manage tobacco-planting operations. In the summer, the two tag-team tobacco decisions. In the fall, Scot drives the combine and semi while Shea manages hand-harvesting of the tobacco crop. 

They're on the phone with each other constantly. "Some people think we're crazy," Shea says. "We spend 99.9% of the time together. … We got started, and we just kind of rolled with it."

The first loan officer they approached for a line of credit rejected their application, so Scott went to a second bank. The loan officer agreed to do business. "What we've sold as far as cattle and crops is what paid our bills," Shea says. "We thrived through those struggles."

It hasn't always been easy. Scott and Shea have experienced challenges along the way including a fire that destroyed a barn, financial burdens and the difficulties of setting up and managing around the H-2A program that supports workers the Lowes consider part of their family. 

Scott has focused on adopting innovative agronomic practices for tobacco. "We're 100% strip-till, so I'm not working the ground like crazy," Scott says. 

Both hope to raise their daughters to appreciate the roles men and women can play. "In life, you have to work for things that you want, and it's not all glorious," Shea says. "Some days it's stinky and hot."  
Read another farmer's story:
---
Irrigation Salesman Transitions to Crop-Growing Full Time
Brian Watts, 35,Renton, Ark.
By Chris Bennett

Producer Brian Watts made a big switch from water to dirt. Since the age of 10, Watts, 35, grew up around well-drilling and irrigation. Now, he grows corn and soybeans on 1,600 acres in Renton, Ark. 

In 2011, Watts moonlighted on 200 acres of leased ground. During the day, he drilled wells and sold pivots and underground pipe to earn a living. The following year, Watts considered going full time but couldn't find adequate land until a friend turned loose a 600-acre lease. 

"He had a couple of pivots we'd sold and was going to move them off land he was letting go," Watts remembers. "I was able to get the ground and, needless to say, the pivots stayed in place."

In the spring of 2012, Watts prepared for planting with borrowed equipment on leased land. Four years on, Watts resists the temptation to cut a crop short on inputs. He does most of his own labor, and his wife, Katie, pitches in to drive tractors and haul supplies and parts. He is waiting to pick up maybe 500 acres and to upgrade his equipment. 

"It's not impossible to get into farming, but I've had to pull on my own bootstraps and carve my own way," he says.
Read another farmer's story:
---
Producer Patchworks Land into a Farm
Brian Threkeld, 46, Shelbina, Mo.
By Nate Birt

Ten years ago, producer Brian Threlkeld of Shelbina, Mo., purchased a 240-acre farm with his wife, Shana. They built a house, put up sheds and grain bins and spent several years paying off their new property.

For him, that moment symbolizes the success their operation has enjoyed thanks to many years of slowly patching together plots of 40 or 50 acres here and 160 or 300 acres there. He located many of those open fields with the assistance of customers he had served by spreading fertilizer for a commercial ag company.

"Some of them had seen me trying to get into it and farm," Threlkeld says. "So they said, 'Well here, why don't you farm my ground?' They knew the work ethic I had and were trying to help me out."

Threlkeld farms 3,200 acres of corn, soybeans and wheat. He and his wife are high-school sweethearts, and they bought their first 80-acre farm in the early 1990s. Early on, his father-in-law helped him set up a 120-sow hog operation, though they have since gotten out of livestock. He worked 80-hour weeks between the farm and his full-time spreading job, and Shana worked full-time, too. 

"In 1993, the year of the [Mississippi River] flood, I decided to buy my first tractor," Threlkeld recalls. "I had a neighbor gentleman that didn't know how I was ever going to pay for this tractor, so he told me, "I think you need to farm my ground, and you need to sharecrop it with me.'" 

From there, Threlkeld grew slow and steady. As with many first-generation farmers, financing proved to be his biggest hurdle. The couple purchased their first farm with a low-interest FHA loan and later worked with Farm Credit Services as their land base grew. He financed a lot of his seeds and fertilizer through vendors instead of a bank to make his operation more attractive to lenders. At one point, Farm Credit told him he was growing too quickly, but he managed to forge ahead and grow his business.

When his father-in-law offered to co-sign on a loan at one point, Threlkeld wouldn't hear of it. "'If I can't do it on my own, I don't want it,'" he recalls saying.

In addition to farming his own ground, Threlkeld runs a custom anhydrous application business that covers between 3,000 and 5,000 acres for Crop Production Services each fall. He also has a custom combining business that cuts 1,500 acres beyond his own.

Today, the Threlkelds are focused on laying the foundation for their three children—son Brett, 19, who is headed to college for an ag business degree and wants to come back to the operation; daughter Erin, 13; and son Colt, 7. They hope to instill pride in a job well done, whether they pursue farming or another career. "I just love to do it, and I try to teach them that you've got to love what you're doing," Threlkeld says.
Read another farmer's story below:
---
Traits of Successful Beginning Farmers
By Sara Schafer
How can a first-generation farmer build a profitable and rewarding operation? It takes brains, optimism and business savvy, says Dave Baker, farm transition specialist with the Beginning Farmer Center at Iowa State University. Here are some characteristics he says beginning farmers should emulate if they want to be successful.  

Positive Attitude: Landlords want to work with someone who is honest, open and able to converse with them. 

Community Involvement: Most landowners or potential partners have contributed to their local communities for years. Similarly, your involvement in community and farm organizations shows what you stand for. 

Transparency and Openness to New Ideas: Landlords want to know your plan for their asset. Get to know each landlord to fully understand what he or she wants to know and when. "Don't assume things," Baker says. "As assumptions go up, conflict goes up. As communication increases, conflict goes down." Be willing to take advice. Few respond favorably to a know-it-all.  

Training and Education: As you network, be sure to share your personal and professional resume. Seize opportunities to learn.

Financial Astuteness: Beginning farmers will likely need to rely on professional advisers to help cultivate their operation as it gears up from the ground level. Spend time understanding your balance sheet, financial position and more. Develop a business plan, compile your goals and strategies and be prepared for meetings. 

Focused Networking: Cold-calling landlords typically is unsuccessful. Instead of taking that approach, ask your relatives, college friends or other acquaintances to connect you to a potential business partner. Have your connections help spread the word you are looking to expand your business and see how they can assist you in building momentum. 

Diversified Operations: Especially in today's volatile economy, beginning farmers should have multiple income sources. Baker suggests row-crop farmers explore livestock, alternative crops or off-farm income.

Guided By Mentors: Look around and find another farmer or business person who has been successful, is well-respected and can give input on your plans, Baker suggests. "Don't be shy about your intentions in wanting a mentor," he says. "Be aggressive, but don't be annoying."
Andrew Hartshorn - First-Generation Farmer