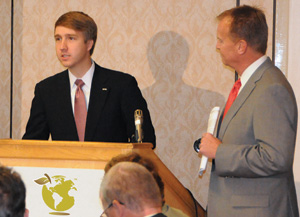 There's no substitute for seeing things firsthand, but the account that Kip Tom and Howard W. Buffett shared over breakfast at the recent World Food Prize event was as good as it gets.

Tom, president of Tom Farms and Farm Journal Foundation board member, and Buffett, formerly with the Task Force for Business and Stability Operations at the Department of Defense, shared their candid observations from a nine-day trip across Afghanistan this past spring. The agricultural development and hunger mission was supported by the Howard G. Buffett Foundation.

Speaking at a breakfast hosted by Farmers Feeding the World, the duo shared compelling accounts of the agricultural production struggles they witnessed across three Afghan provinces and Kurdistan in northern Iraq. The delegation documented how a small amount of help can make an enormous difference in not only feeding families but changing society dynamics. Simple ag development efforts, such as improving small farmer output through training and access to center-pivot irrigation, are paying long-term dividends.

"Unless you get deep inside Afghanistan and Iraq, you really can't appreciate America's grassroots efforts there," Tom explained.

Among the many revelations the delegation experienced is that poppy fields can be successfully replaced by saffron, the most expensive spice in the world. In face-to-face meetings, Afghan farmers said that they now make more money selling saffron than they did growing poppies for the Taliban.

To learn more about the delegation's trip and Farmers Feeding the World, visit www.farmersfeedingtheworld.org.