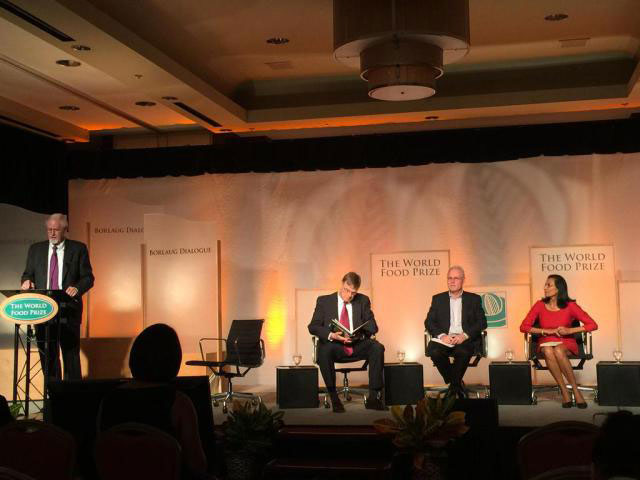 By Eric Knapp, University of Missouri student
DES MOINES, Iowa — While fish is a primary source of protein that has many essential nutrients, health-promoting benefits and other nutritional qualities, fisheries and aquaculture are often overlooked in the global discussion of food security and hunger.
At a fisheries and aquaculture panel on Oct. 15 at the World Food Prize, leaders felt fish could play a pivotal role in attaining the 2015 United Nations General Assembly initiative to "end hunger, achieve food security and improved nutrition and promote sustainable agriculture" by the year 2030.
"One of the things that we need to do as (an aquaculture) community is to integrate into the debate about food security and nutrition," said Pinstrup-Anderson.
Jeppe Kolding, professor of biology from the University of Bergen, worked as a midwife in Africa when he first pondered the idea of using fish as a way to alleviate hunger on the while living next to Lake Tanganyika, the fourth largest lake in Africa that has large populations of small fish.
"I was always wondering how people can die of hunger next to a lake with fish in it," he said.
For 3 billion people, 20 percent of their daily animal protein intake comes from the consumption of fish from fisheries and aquaculture, for 1.5 billion people, fish makes up about 15 percent. This number is between 50 and 60 percent in West African coastal countries like Ghana, Sierra Leone, and Asian countries like Cambodia, Bangladesh and Sri Lanka.
Árni M. Mathiesen, assistant director-general of fisheries and aquaculture at the Food and Agriculture Organization (FAO),  said that the average number of wild caught fish has stagnated within the last three decades and that fisheries and aquaculture has become the fastest growing food production sector, increasing with an annual average growth of over 8 percent.
China is expected to see the highest growth in demand for fish, with an increase from 24.4 kg per person per year in 2000 to 41 kg per person per year in 2030, Mathiesen said.
---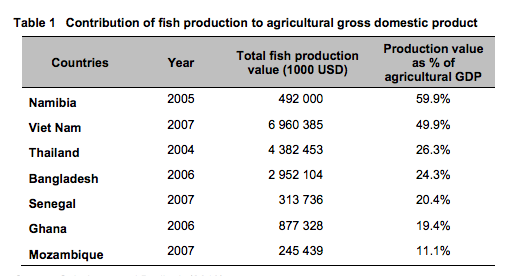 This figure from the Sustainable Fisheries and Aquaculture for Food Security and Nutrition 2014 report from HLP shows just how crucial fish production is to the agricultural gross domestic product.
---
"The status of fisheries and aquaculture is of high importance right now," said Mathiesen.  "We have come to the conclusion that production needs to increase from 50 to 100 billion tons by the year 2030."
To achieve aquaculture that is environmentally sustainable, Mathiesen said, will require a balance of resource usage, farming systems, health and production management and farming species of fish that are lower on the food chain.
Shakuntala Haraksingh Thilsted, senior nutrition scientist at WorldFish, warned that sustainability can never be reached if environmental precautions are not taken by the industry.
"We have heard a lot about the demand for food and how we are going to meet that in 2030 and 2050 with (the world) population growing," she said. "I would like to think much longer about using our investments and resources in reducing wastes and losses rather than jumping first to increase production."
Mathiesen believes that farming low-trophic level species would be sustainable, compared to farming higher trophic species like trout, salmon, and shrimp that require wild caught fish and formulated fish-oil feeds.
With a 5.8 percent rate of growth within the last 10 years, the effects of aquaculture on the availability of fish on the world market is substantial. In addition to availability, the price of fish, especially salmon, has dropped dramatically since the 1990s when there was an expansion in farm production.
Kolding said that a major obstacle in the expansion of fisheries and aquaculture is the lack of the diversity of farmed fish.
"We are fishing (in the wild) at least two to three thousand different species of fish and we are farming around seven hundred species of fish," he said. Kolding also noted that research and development initiatives should focus on the sustainability of both large and small scale aquaculture systems.
In addition to expanding the diversity of farmed species, Mathiesen said each country needs to keep control of their resources of fisheries and aquaculture. Consistent governance and policy would ensure fisheries would be held to high standards.
Read more coverage of the 2015 World Food Prize and Borlaug Dialogue at the MU Earth blog.