Building on many of the features introduced on the 8R Series, John Deere unveils the new 7R Series Tractors.
The five 7R models include:
7200R – 164 PTO hp 200 engine hp; PowerTech PSX 6.8L Engine
7215R – 178 PTO hp, 215 engine hp; PowerTech PSX 6.8L Engine
7230R – 189 PTO hp, 230 engine hp; PowerTech PVX 9.0L Engine
7260R – 215 PTO hp, 260 engine hp; PowerTech PVX 9.0L Engine
7280R – 232 PTO hp, 280 engine hp; PowerTech PVX 9.0L Engine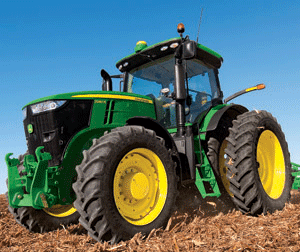 Outfitted with the Exhuast Gas Recirculation (EGR) PowerTech engines, these tractor are Interim Tier 4 compliant. For streamlined styling, the exhaust treatment filter is placed under the hood.
The 7R Tractors are geared with Infinitely Variable Transmission (IVT) or the Command Quad transmission. The 7R Tractors have 30%  more fuel capacity and 23% greater hitch-lift capacity compared to the large-frame 7030 series.
The tractors are designed for tillage, planting, haying, loader work and other farm chores. For greater versatility in on-farm applications, the series has an optional front hitch and PTO. For rear-driven equipment, a new 3-speed economy PTO with power-assist PTO shifting is an available option. The series is available with larger tire options.
The 7R models also can be equipped with ActiveCommand Steering (ACS), which provides precise steering control especially at high transport speeds. An optional adaptive hydraulic cab suspension system reads multiple tractor inputs to automatically adjust the suspension for an improved ride.
The 7R tractors are available with six hydraulic SCVs and up to 59 gpm hydraulic flow.
The CommandView II Cab provides greater visibility to the drawbar. The 7R Series Tractors have an optional touch-screen video capable CommandCenter Display.