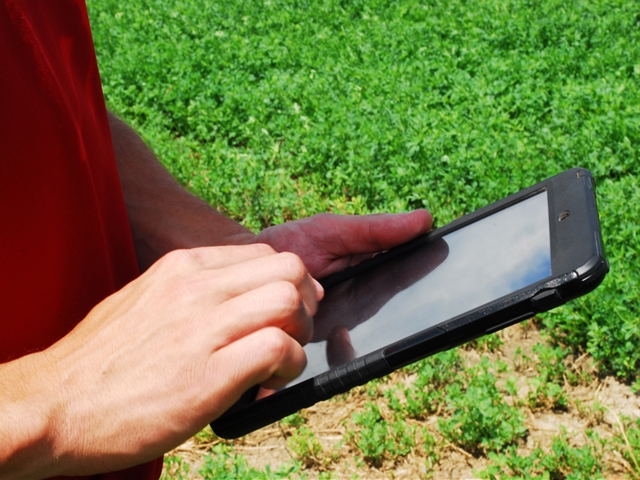 Twitter is, at its heart, an exchange. People exchange information and ideas. Often, they exchange jokes and word games.
A recent word game that has been trending is #FiveWordsToRuinADate. "You look like my ex," "Don't worry, it's not contagious" – you get the general idea.
Late last night, enterprising Twitter user @Rickreallfarmer (a/k/a Tiffany Marx, a self-described agvocate, mother and farmer's wife from Oregon) tweaked the hashtag to #FiveWordsToRuinADateWithAFarmer and lofted a few dozen or so into the ether, starting with this one.
I drive a Carolla? You? #FiveWordsToRuinADateWithAFarmer

— Tiffany R. Marx (@RickreallFarmer) January 14, 2015
Tiffany's game caught on, and a flurry of five-word date-ruining suggestions have been peppering Twitter ever since. Here are a few of our favorites:
You don't look like a farmer #FiveWordsToRuinADateWithAFarmer

— Marie Bowers (@MarieB41) January 14, 2015
Who is this, "John Deere"? #FiveWordsToRuinADateWithAFarmer

— Samuel Ebenkamp (@ebenkamp2013) January 14, 2015
I want an October wedding #FiveWordsToRuinADateWithAFarmer

— Angie Maguire (@GoddessofGrain) January 14, 2015
I like my steak well-done #FiveWordsToRuinADateWithAFarmer

— Jarod Creed (@jarod_creed) January 14, 2015
Cant you call in sick? #FiveWordsToRuinADateWithAFarmer

— Carolyn MacDonald (@Carolyn_JMac) January 14, 2015
I don't like gravel roads #FiveWordsToRuinADateWithAFarmer

— Chip Flory (@ChipFlory) January 14, 2015
"I left the gate open" #FiveWordsToRuinADateWithAFarmer

— Doug Bartlett (@Grainmonster) January 14, 2015
Huh, The neighbors yielded better. #FiveWordsToRuinADateWithAFarmer

— Brent Peters (@bkpeters2000) January 14, 2015
Check out my Prius, bro! #FiveWordsToRuinADateWithAFarmer

— Josh Earll (@J_Earll) January 14, 2015
"I love to sleep in" #FiveWordsToRuinADateWithAFarmer #DairyStyle

— Andrew Campbell (@FreshAirFarmer) January 14, 2015