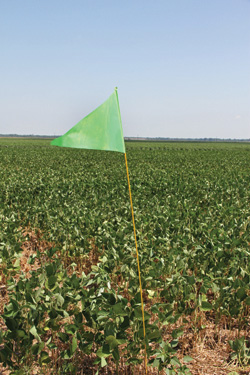 A simple bicycle flag helps avoid herbicide mistakes
There's a lot of flag-waving going on in Arkansas. This past year, color-coded, bicycle-type flags popped up in fields across the state in an effort to alert spray operators to the herbicide technology in use.

The color of the flag represents the technology. A red flag indicates "Caution: This field contains conventional crops with no herbicide technology traits." A white flag designates Roundup Ready technology, which is tolerant to glyphosate herbicide. Bright green indicates LibertyLink technology, which is tolerant to glufosinate (Ignite) herbicide. Bright yellow is the color for Clearfield technology, which is tolerant to imazethapyr (Newpath) and imazamox (Beyond) herbicides.

In fields with stacked technology, multiple flags are being used. Color-coordinated stickers mounted in the cab of the tractor, sprayer or spray plane are also part of the program, called "Flag the Technology," from the University of Arkansas Cooperative Extension Service. The system has been so successful that Missouri, Mississippi and Tennessee farmers are adopting it, and the Arkansas staff is fielding calls from farmers across the Midwest.

"Flag the Technology is a quick and inexpensive method to prevent misapplication of pesticides and warn of technology that is sensitive to potential off-target drift," says Ken Smith, a University of Arkansas weed scientist. "It is part of being a good neighbor, too, because it alerts everyone as to what is in adjoining fields."
A lesson in accuracy. In several cases, the bicycle flags made the difference between a healthy crop and a dead one, says Ron Baker, Clay County Extension agent with the University of Arkansas. Baker devised the idea after farmers in his county began reporting difficulties in juggling technologies in the field, resulting in drift and misapplication.

"In one case, an ag pilot thought he was headed to a Clearfield rice field. From the air, he saw red flags and was able to radio in and confirm that it was actually a conventional field," Baker says. "One of the main goals of the flag system is to have colors visible from the air."

Flags are placed at field entrances and borders to alert applicators. The preferred flag is a 12"×18" triangle mounted on a 6' whip-style fiberglass pole without a bracket. This is a slightly larger flag than the standard flags built for bicycles.

Baker says there was concern at initial farmer meetings that flags might be stolen or moved. "We have had growers place them further into the field, where they are less likely to be moved, but we've had very little trouble," he says.

Weed resistance is prompting more farmers to use alternative nonselective control options. More over-the-top technology is coming in the next few years, too. Smith says herbicide tolerance programs will continue to get more complex as farmers manage more acres and resistance.

"We are not going back to a one-product system," Smith says. "We have growers that may have 50 to 60 fields spread over thousands of acres. They are dealing with multiple employees and custom application or multiple products.

"So far, we've found GPS systems too cumbersome and not easily recognized by neighbors. It's likely a user-friendly system will be developed in the future, but this flag system is proof that sometimes, simple is simply best," he says.

Flags are available from Parker Flags (800-693-2258, www.parkerflags.com) for $5.25 per flag, plus shipping and handling, with a minimum 50-flag order. Mixing colors is allowed, and the price declines with larger bulk orders.