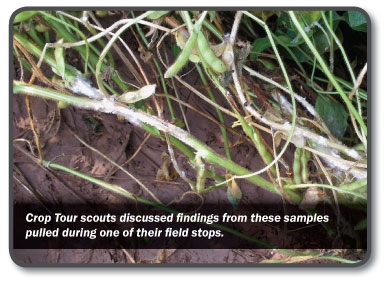 Many Corn Belt growers are fed up. They're tired of growing 40-bu. soybeans in the same fields that, every other year, can grow 175-bu.-plus corn. And while these fields and areas have the potential to grow 60-bu. soybeans, it doesn't happen very often. The reason: diseases.
Stem rots, white mold, leaf blights—soybean diseases are fairly common across the Corn Belt, with each seeming to have strongholds in certain areas. This season's wet conditions are ideal for white mold, warns Daren Mueller, Iowa State University plant pathologist.
"Fields are at higher risk of getting white mold than in previous years, particularly in high-yielding sites where the canopy closed early," Mueller says. "Also, fields that had plenty of soil moisture, high humidity and little airflow have increased chances of getting white mold."
Disease impacts marketing. But the real problem isn't identifying diseases; it's how soybean disease is impacting overall planting decisions and crop marketing plans.
"Growers ask, 'How can I afford to grow 40-bu. soybeans when I grow 175-bu., or better, corn?'" says Chip Flory, Pro Farmer editor. "Many growers are so uninterested in soybeans that it's impacting planting and marketing decisions."
Traditional 50-50 corn-soybean crop rotations now favor corn by 60-40 or even 70-30 in key areas, Flory says. Interest in corn-on-corn production techniques has never been higher in the Upper Midwest, where the corn-soybean yield (and revenue) disparity has been expanding rapidly in recent years (see "Minnesota Soybean Conundrum" below).
Growers in the Midwest will struggle to balance the opportunity to plant higher-revenue corn against the effort it takes to handle the volume from increased corn acres, Flory adds.
"More bin space, bigger dryers and grain carts and another semi to haul grain all seem to be in the future for growers as revenue potential forces more acres over to corn," Flory says.
Minnesota Soybean Conundrum
Soybeans in Minnesota seem to have flatlined while corn yields saw a record high of 175 bu. per acre in 2009. In Minnesota, soybean diseases and pests have dampened yields. This trend should start to increase corn-on-corn acres in the Upper Midwest, predicts Chip Flory, Pro Farmer  editor. "Even if soybean yields are flatlined, price and revenue increases should kick in to bring the corn-versus-soybean argument to an economic equilibrium," he says. That, however, is not happening. Actual plantings don't support the move to a corn-on-corn argument. After Minnesota corn acres spiked in 2007, soybean plantings are again narrowing the spread to corn acres. Minnesota soybean acres in 2010 are expected to equal corn at 7.5 million acres. "Most likely, it's logistics," Flory says. "Handling the volume of corn produced per acre has become a deterrent just as much as flatlined soybean yields are limiting soybean plantings."
---
Top Producer, September 2010