The following story was written by a University of Missouri student as part of the 2012 Sonja Hillgren/Farm Journal Ag Journalism Field Reporting Institute. Learn more.

By Teresa Avila

In a field a few paces from the Missouri River, the corn exhibits the classic effects of this summer's drought. The stalks are short, the cobs stunted and the kernels small.

The crop roots in coarse, tan soil. Not the black silt one might associate with a flood plain, but sand, a remnant of the flood that hit northwestern Missouri a year ago.
Here in northwest Missouri, the 2011 flood and the 2012 drought have left some farmers with two years of diminished income.
"It's been a one-two punch for the people who farm on the bottoms, who were flooded last year," said Jim Crawford, superintendent of the University of Missouri's Graves-Chapple Research Center, near Rock Port. The center is located in Atchison County, one of 24 Missouri counties to experience the 2011 flood.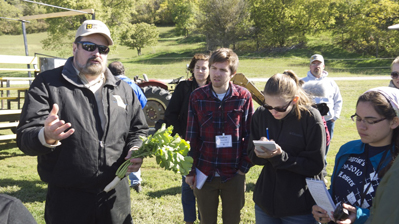 Jim Crawford, superintendent of the University of Missouri Graves-Chapple Research Center, near Rock Port, Mo. Crawford describes research at the center near to MU students and faculty on Saturday, Sept. 22, the second day of the annual Sonja Hillgren/Farm Journal Science and Agricultural Journalism Field Reporting Institute. Photo: George Laur

The flood on the Missouri River lasted four months in some areas. The water remained in the flood plain, prolonging the damage.
Atchison County farmer Tracy Barnes owns land both in the Missouri's flood plain and in the hills farther away from the river. The flooding reached about 700 of Barnes's 4,000 acres.
"We probably had about $250,000 invested in that crop that we never got anything out of," Barnes said in an interview this fall.
About 45 miles south of Atchison County, Lanny Meng grows soybeans and corn near Oregon, Mo. The levees near his farm did not break, unlike those in Atchison County. But with 80 percent of his land in the flood plain, Meng took a hit from the 2011 flood.
Meng lost most of his crops on the river side of the levee, he said. The soil there experienced some erosion and sand deposits. Some of the damage may be permanent, he said.
About 207,200 acres of Missouri cropland flooded in 2011, according to a report by Scott Brown of MU's Department of Agricultural and Applied Economics. The report estimated total lost market revenue at $175.9 million. Crawford noted that many believe these numbers are low.
Jim Crawford is superintendent of the University of Missouri Graves-Chapple Research Center near Rock Port, Mo. Photo: J.B. Forbes

Said Meng, "When you have two years in a row where you really lost your profit potential, it makes it tough to do any kind of planning long term."
By the time the drought hit in 2012, some soil had already suffered notable flood damage.

The floodwater's constant pressure compacted the soil and depleted plant and animal life, Atchison County farmer Steve Klute said. Farmers had to clear away sand deposits in specific areas, or work them back into the soil.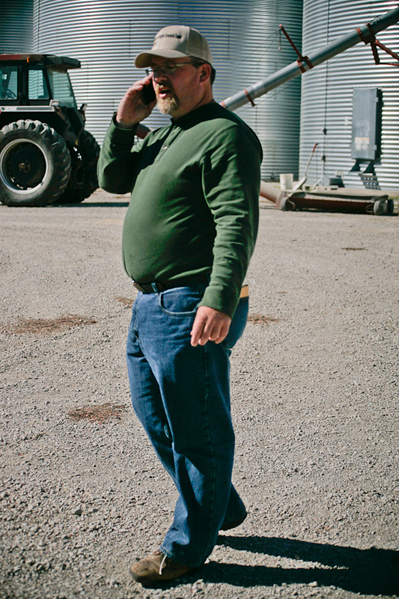 Steve Klute is an Atchison County farmer. Photo by Amy Bruer
In a normal year, sand can support a crop, Klute said. But in drought, the sand retains little of the water it receives.
Still, leftover moisture from the excess water of 2011 helped in 2012 in some areas. Similarly, the drought alleviated some effects of the flood.

This year's drought is part of a dry spell that began last year. Less rain in summer and fall permitted quicker repairs to levees and fields.
"If we would have had a normal rain, it would have made the flooding a lot worse down on that river bottom," Klute said.
Months of submersion also allowed water to seep into the subsoil in certain areas. The floodwaters eliminated burrowing animals and left some silt behind.
These benefits are welcome, but as Klute put it, farmers had to lose a crop last year to get them.
Experiences varied across the floodplain. Barnes didn't have sand deposits or the scour holes the river water cut into the land at levee breaks, while his neighbor across the road did. Some fields seem permanently damaged from the flood; others seem fine.
"We farmed again this year and it seems as though it went right back to producing a crop like it would have prior to the flood," Barnes said.
As the harvest season progressed, farmers evaluated their losses. But for farmers who experienced flooding, this year's corn and soybean prices look much better than last year's.
"Here's what I noticed about the drought: I got a whole lot more company," Meng said, referring to the drought's geographically broader impact on farmers. When more farmers suffer losses, the markets respond with higher prices, he said. That helps to offset the drought's impacts.
Flooded farmers don't see such a benefit during a flood year.
After so little precipitation, farmers have reason to feel worried about next year. The subsoil moisture is depleted, especially in the hills.
"Our water checking account has got zero in it," Meng said.
Barnes said he worries about next year, but not as much as he used to.
"You don't ever plan for a failure," Barnes said. "You just plan for 'Well, next year's going to be the best year I've ever had.'"