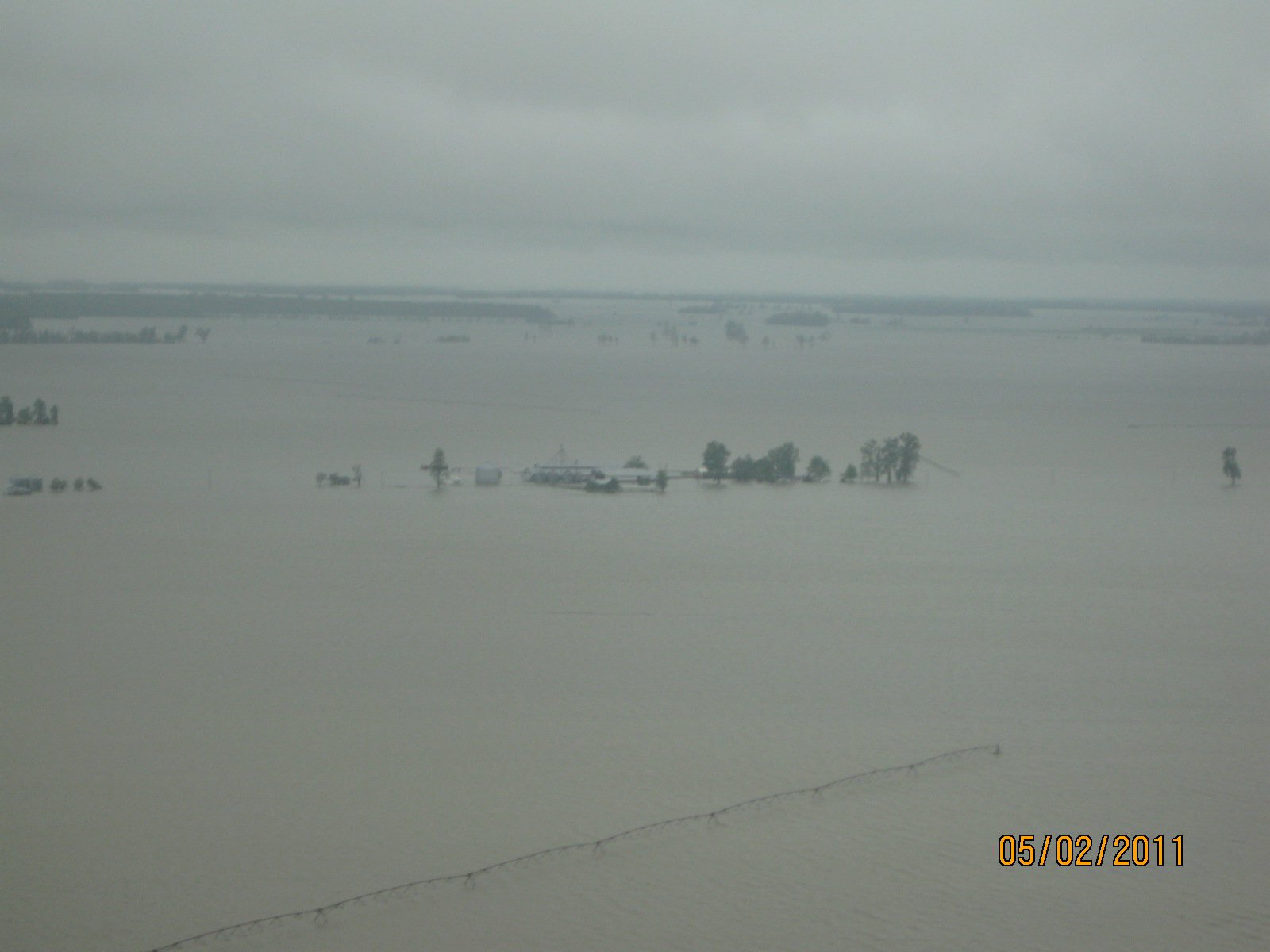 There was plenty of water and even more questions as the Mississippi River breached the levee at the Birds Point-New Madrid Floodway in southeast Missouri Monday morning. After the U.S. Army Corp of Engineers decided to exercise the floodway and blow up the levee to create a 133,000 acre lake in hopes of relieving upstream pressure from the swollen Ohio and Mississippi Rivers, farmers in the area were left with even more questions about crop insurance coverage for the area.  
On Tuesday, Department of Agriculture Secretary Tom Vilsack announced that crop insurance will cover all flood damage occurring prior to and after the breaching of Mississippi River levees. He promised crop insurance protection to all insured farmland, settling the worry of the farmers who suspected the subsequent flooding would be considered man-made and not a natural disaster.
This news comes as relief to many farmers in the area, including Milus Wallace, who will suffer significant damage from the flooding waters. Wallace and his family will lose all 1,300 acres of their farm as well as the four houses and all the outbuildings on their homestead.
"We stand to lose everything," he said on Monday afternoon.
On Monday night around 10 p.m. the Army Corps of Engineers blew a hole in the Birds Point, Mo., levee sending water toward farm land in Mississippi and New Madrid counties. A second blast of the blast of the levee was scheduled for early this morning, however due to unfavorable weather conditions it did not occur until this afternoon.
The Wallaces were evacuated four days ago. They managed to get all of their machinery off of the farm, but everything else stands to be washed away. There are several other farmers in the same situation as they are. There are an estimated 100 homes in the way of the rushing waters and they will consume farm land as well.
 "We have advised the Congressional Delegation and the governor's office that crop insurance will be available," Vilsack says. "Notwithstanding the fact that this was in a sense a man-made initiative to breach the levee, it was a result of mother nature."
 The SURE program will be available for all insured farms once there is an estimate of losses, which USDA is anticipating to be significant according to Vilsack.
There is hope for those without crop insurance as well. The Noninsured Crop Disaster Assistance Program (NAP) exists to help farmers who suffer natural disaster without crop insurance.
Farmers impacted in less severe ways will receive help from USDA as well.
"If people were prevented from planting because of the flood than they would be eligible for prevented planting payments," says Shirley Pugh of USDA's Risk Management Association (RMA).
Prevented planting payments are given when natural disaster causes conditions to be unfavorable for planting crops. There are stipulations, but RMA plans to send an announcement tomorrow informing all insurance companies to consider all late planting due to the floods as valid.
More Help from USDA
The USDA plans to help displaced families in several ways. Secretary Vilsack offered USDA to help homeowners deal with their insurance companies and banks to ensure their loans are not considered delinquent and they are working to provide housing for them as well.
"We have identified rental units that are available that USDA has helped to finance that are open and vacant," he says, "so folks can have a roof over their heads hopefully as close to home as possible."