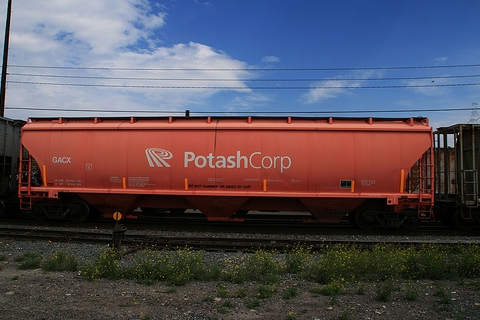 A flood at a Russian potash mine accounting for 3 percent of global supply threatens to force up fertilizer prices and make Potash Corp. of Saskatchewan Inc. the world's largest producer again.
OAO Uralkali, Russia's biggest potash miner, is monitoring the Solikamsk-2 mine about 1,000 miles (1,800 kilometers) east of Moscow after it halted operations and evacuated workers because of rising inflows of salty water into the site yesterday. Water can be deadly for potash mines because it dissolves the mineral deposits.
The situation may get worse after a sinkhole as wide as 40 meters (131 feet) was found 3.5 kilometers east of Solikamsk-2, suggesting a route for the water to find its way in, Uralkali said Nov. 18. The mine is separated by a concrete wall from another of the company's operations, Solikamsk-1.
Uralkali became the largest potash producer in 2011, when it bought Russian competitor OAO Silvinit. Last year the producer broke a trading venture with Belarus, which has controlled 40 percent of global potash exports, leading to the drop in prices as the company started to run its mines near full capacity.
"Things don't look good now," Elena Sakhnova, an analyst at VTB Capital in Moscow, said by phone. "The sinkhole may signal that the mine will be flooded."
Water inflows into Solikamsk-2 slowed to about 1,000 cubic meters per hour in the past day, one-sixth of the previous level, Kommersant reported today, citing chairman of Perm region government Gennady Tushnolobov.
Indicates Pessimism
If Uralkali loses both mines in Solikamsk, it may give up its spot as the largest potash maker to Potash Corp., which is expanding its mines in Canada, Sakhnova said.
The fact Uralkali also said that it may consider speeding up its new potash developments in the area indicates pessimism about Solikamsk's future, ZAO Raiffeisenbank analyst Konstantin Yuminov said.
Should Solikamsk-1 be affected, Russia may face another problem. The mine is the main source of carnallite used in titanium production by OAO VSMPO-Avisma, a supplier to Boeing Co. VSMPO-Avisma plans to discuss alternative carnallite supplies, including from Israel, Vedomosti reported today, citing Chief Executive Officer Mikhail Voevodin.
Shares Slump
Uralkali's shares plunged 21 percent in Moscow yesterday, the biggest drop in six years, cutting the company's market value to about 379 billion rubles ($8.1 billion). The stock had rebounded by 5 percent to 135.50 rubles by 12:37 p.m.
Uralkali declined to comment for the story beyond the statements it's already issued.
The two Solikamsk mines produce about 3 million metric tons a year, or about 5 percent of global output. Losing that would return the market to where it was before Uralkali broke its agreement with Belarus, analysts said.
North American potash producers, including Potash Corp., Agrium Inc. and Mosaic Co., will be main beneficiaries of any production loss by Uralkali and the crisis at Solikamsk may help in talks with China over the next year's contract, Morgan Stanley said yesterday.
The price of the soil nutrient for China may rise to $340 per ton next year, up from $305 this year, Sakhnova said. The potash spot price in Brazil may climb to $400 per ton in the first quarter from $380 as the country buys the granular form of potash that Solikamsk-2 mostly produced, Yuminov said.
Rival Gains
Potash Corp. could gain about 1 million tons a year of sales while production from Solikamsk-2 mine is suspended, AltaCorp. analyst John Chu said yesterday.
The Canadian company plans to add 2.4 million tons of capacity next year, Morgan Stanley said yesterday. Its total capacity is 12.4 million tons a year, according to the company's data.
Potash Corp.'s shares rose 1.5 percent yesterday after gaining 4.8 percent on Nov. 18 as Uralkali said it closed the mine.
Uralkali's total capacity is about 13 million tons a year and the company plans to increase production to a range of 15 million to 19.5 million tons by 2020. The higher end was seen as achievable if the company decided to develop additional deposits in the Perm region, and expand a third mine at Solikamsk.
Uralkali lost a mine at Berezniki in Perm region eight years ago, after a sinkhole wider than 100 meters opened above the mine.
Should it happen again, the producer won't be able to recover the output through new mines until 2018, VTB's Sakhnova said.
All is not necessarily lost for Uralkali and there may be a chance the company can save the mines, Kirill Chuyko, BCS Financial Group's head of equity research, said by phone.
Belaruskali managed to prevent its potash mine flooding in 2011, while Mosaic did the same in 2007.