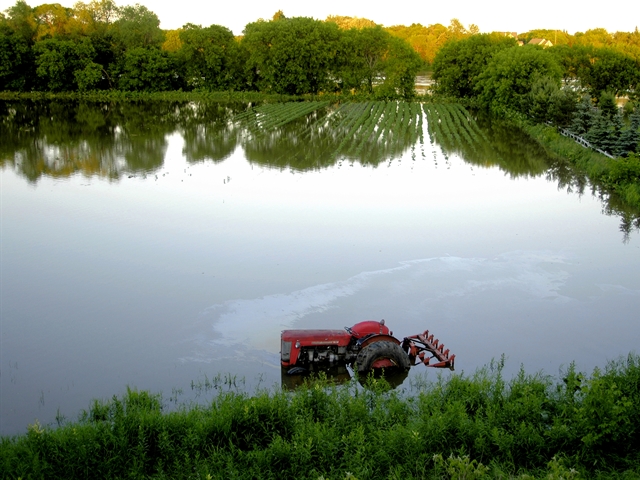 A torrent of rain that dumped two feet of rain in 48 hours over Louisiana, killing 10 people and flooding 40,000 homes, has inundated rice fields and some soybean crops, according to a Louisiana Farm Bureau spokesman.
"Some farmers lost crops," said Neil Melancon, assistant director of public relations at the Louisiana Farm Bureau Federation. "We're assessing the damage" to rice and soybean fields and displaced cattle, he said. 
Markets reacted sharply, with rice futures making their biggest gain in five years on Monday, observed Cary Martin, of the Farm Bureau's radio network. The damage could be considerable. Dustin Harrell, a research agronomist and extension rice specialist at Louisiana State University, offered a "highly speculative estimates" earlier this week that Louisiana rice growers could already be seeing more than $14 million in losses from the flooding damage.
Most farmers were helping each other herd cattle to higher ground and mending fences, Melancon said. "This flooding is severe," he said. "It's the worst we've ever seen." Baton Rouge had received 22.11 inches of rain by Tuesday since the start of August, more than 19 inches above normal, according to the National Weather Service. 
About 50% to 75% of the first rice crop harvest was completed, and now with rice fields flooded, the second rice crop could be lost, Melancon said.
An estimated one million acres of soybeans could also be affected, but Melancon said it was still too early to tell. A big crop was expected this year, "and the bean crop looked better than ever," on the verge of harvest just before the torrential rains hit.  
In Texas, localized flooding is a concern, from Houston to the central Texas Hill Country region, according to the National Weather Service. But the impact on agriculture is uncertain, according to Texas agriculture state officials who said on Thursday they were still gathering information around the state due to the ongoing flooding.
For the areas of Texas that are still experiencing a drought, the rain may be helpful, according to Rod Santa Ana, a crop report writer at Texas A&M University. Summer crops, such as as grain sorghum and cotton, in other parts of the state likely needed the relief from the heat and drought, he noted.