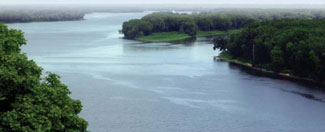 Farmers question proposed Clean Water Act revisions
The Environmental Protection Agency (EPA) and the Army Corps of Engineers hoped to clear up a murky issue in March when they released a proposal to expand federal authority over "waters of the United States." 

The rule is intended to define the reach of the Clean Water Act, a federal law that governs water pollution. Yet ag groups are skeptical. If finalized, it will clarify the government's regulatory authority over millions of acres of wetlands and millions of miles of streams. It also will redefine "waters of the United States" (also known as WOTUS) to include intermittent and ephemeral streams, along with other non-navigable water bodies previously not regulated by federal authorities.

"Over the last decade, the Clean Water Act has been bogged down by confusion," explains EPA Administrator Gina McCarthy, who explains the rule will support a strong farm economy. "Some in the agricultural community might think this rule will broaden the reach of EPA regulations, but that's simply not the case."

Heavy Reading. The proposed rule spans 370 pages. 

"McCarthy says EPA is not expanding its jurisdiction," says Gary Baise, principal attorney with OFW Law in Washington, D.C. "If you are not going to make any changes, you don't need 370 pages. When you see the actions EPA has taken for water running off people's land and wetlands, this is regulation to be feared." That's why a number of commodity groups are opposed to the proposal, he notes.

In particular, ditches are a point of concern in the ag community. McCarthy says the rule doesn't cover standing water, and she points out the vast majority of ditches are not jurisdictional because their purpose is solely to direct runoff.

Yet she says some ditches look, feel and act like streams because many of them were streams in the past. "Those may be important for water-quality protection purposes," she says. "They were important under the current rule, and they will be important under this one."

If farmers have this type of ditch, they need to be careful it stays healthy, McCarthy advises. "It doesn't mean you need to change anything you are doing," she says. "We're not making you get a permit. We are making sure you realize that unique ditch is a vital part of a drinking water supply and needs to be protected."

Producers should also be aware of what the rule omits. McCarthy notes the proposed rule:
Doesn't change the definition of "navigable water"
Retains all existing farming exemptions and exclusions from permit requirements under the Clean Water Act 
Maintains the jurisdiction of the Clean Water Act without expanding the law

Although those factors won't change under any forthcoming rule, ag industry leaders remain cautious.

"This is a complicated issue," explains Don Parish, senior director of regulatory affairs at the American Farm Bureau Federation. "We all support protecting waters of the U.S., but this proposal allows EPA to regulate anything with flow into it. That really reaches beyond things that are aquatic in nature."

The scope of the rule also worries Richard Gebhart, president of the Oklahoma Cattlemen's Association. 

"I've studied this rule three or four times, and I cannot imagine a piece of agricultural land in the U.S. that will not be regulated by this rule," he explains. "There is no doubt it will add cost into the system."

Such concerns are familiar to McCarthy. "EPA and the agricultural community do not have the most trusting relationship," she says. "We can't allow this rule to tear us apart as opposed to bringing us together. We really need everyone's input."

The Next Steps. Producers can share their thoughts on the rule during a comment period that runs through Oct. 20. EPA also will complete a report on which the proposal is based, says Michael Formica, chief environmental council for the National Pork Council. The report, more than 300 pages in length, should be finished in time for review by the public.

After the comment period ends, Formica notes, EPA must read all of the comments, which could surpass several million. "They will have to address every meaningful issue," he notes. "If there is a real issue that someone raises and EPA doesn't respond to it, they have standing to go back and sue the agency."

The process could take six to eight months. Then EPA can issue a final rule, pull back the rule or issue a revised proposal. "My gut tells me they come back with a revised proposal," Formica says. "That seems to be more in line with how McCarthy operates. But who knows? Regardless, it will likely be at least the end of next year, or maybe 2016, before anything is set."

Until then, producers will monitor the issue for clues about how their farms might be affected.
---
What are Waters of the United States?
The Clean Water Act aims to preserve the chemical, physical and biological integrity of national waters. The new proposal defines those waters as:
All waters which are currently used, were used in the past, or may be susceptible to use in interstate or foreign commerce, including all waters which are subject to the ebb and flow of the tide
All interstate waters, including interstate wetlands
The territorial seas
All impoundments of a traditional navigable water, interstate water, the territorial seas or a tributary
All tributaries of a traditional navigable water, interstate water, the territorial seas or impoundment
All waters, including wetlands, adjacent to a traditional navigable water, interstate water, the territorial seas, impoundment or tributary
On a case-specific basis, other waters including wetlands, provided that those waters alone, or in combination with other similarly situated waters, including wetlands, located in the same region, have a significant nexus to a traditional navigable water, interstate water or the territorial seas
---
Express Your View
Comments about the federal water rule can be shared with the government until Oct. 20. There are several ways producers can submit feedback.
Email:
To: 
ow-docket@epagov
Subject: EPA–HQ–OW–2011–0880 (
Be sure to include the above code in the subject line of the message.
) 
Online: 
www2.epa.gov/uswaters
Mail your written comments, along with three copies,to:
Water Docket, Environmental Protection Agency, 
Mail Code 2822T 
1200 Pennsylvania Avenue NW. 
Washington, DC 20460 
Attention: Docket ID No. EPA–HQ–OW–2011–0880
---
To read the latest news about the proposed expansion of the federal Clean Water Act, visit  www.TopProducer-Online.com/WOTUS.