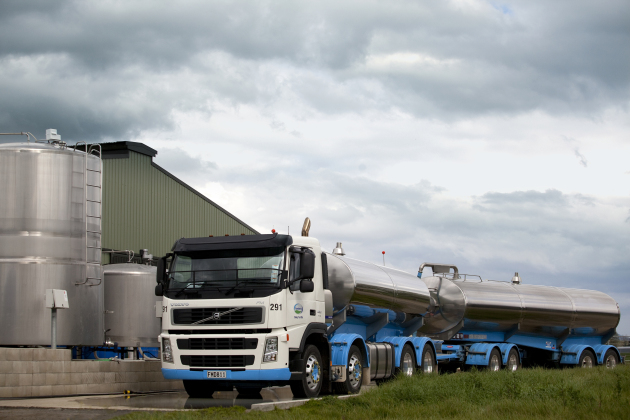 Fonterra Cooperative Group Ltd., the world's biggest dairy exporter, unexpectedly cut its dividend forecast as earnings fell amid a global milk glut.
The dividend Fonterra will pay New Zealand dairy farmers may drop as much as 20 percent this year from its previous forecast, curbing incomes that are already facing a NZ$6.5 billion ($5 billion) plunge in milk payouts.
Fonterra is grappling with global oversupply that's seen whole milk powder prices slide 34 percent in the past year, eroding returns on New Zealand's biggest export. A contamination scare in 2013 and an anonymous threat to poison baby formula this year have also threatened to curb demand for the company's products in its biggest markets, including China.
"Dairy farmers are counting every cent at present," said Con Williams, rural economist at ANZ Bank New Zealand Ltd. in Wellington. "Dairy prices need to continue to improve for profitability to be restored across the industry."
The New Zealand dollar was little changed after Auckland- based Fonterra's announcement and traded at 76.35 U.S. cents at 2:35 p.m. in Wellington. Shares in the Fonterra Shareholders' Fund, a trust that tracks the cooperative's dividend payout and earnings, fell 5.2 percent to NZ$5.68, headed for their biggest drop since December 2013.
Net income fell 16 percent to NZ$183 million in the six months ended Jan. 31 as revenue declined 14 percent to NZ$9.7 billion, according to a company statement.
Forecast Band
The company's 10,000 New Zealand dairy farmers will receive a dividend of 20-30 NZ cents in the year ending July 31, down from a previous forecast of 25-35 NZ cents, Fonterra said Wednesday. Chief Executive Officer Theo Spierings said in an interview that the forecast band will not be revised.
The dividend will supplement a projected payout to farmers of NZ$4.70 per kilogram of milksolids, which Fonterra reiterated today. The payout has dropped from a record NZ$8.40 in the 2013-14 season.
Farmers "have aligned their business to the NZ$4.70, and that NZ$4.70 is not likely to move far up or down," Spierings said. In December, he said the company aimed to increase its dividend to help compensate for the plunge in milk prices.
Every Cent Counts
"Farmers will be wanting to know in clear terms why we're not getting a lift in dividend this season," said Andrew Hoggard, chairman of Federated Farmers' dairy division. "It may seem 5 cents ain't a big deal, but every cent counts. The drop is going to have some impact."
Dairy exports fell 7.5 percent to NZ$13.35 billion in the year through February, Statistics New Zealand said today. Sales to China, New Zealand's biggest customer, plunged 77 percent in February from a year earlier.
"It's going to be a drag on growth," said Doug Steel, senior economist at Bank of New Zealand Ltd. in Wellington.
New Zealand's reputation as a clean, safe food exporter has been hit by three contaminations scares in two years involving Fonterra.
Contamination Scares
Letters sent to the company in November, only revealed this month, threatened to contaminate baby formula with the pesticide 1080 unless the government stopped using it by the end of this March. There is no evidence of any poisoning and police investigations are continuing.
A botulism scare in 2013 prompted a global recall of some Fonterra products and an import ban by China until it was proved to be a false alarm. In January that year, Fonterra said traces of a fertilizer additive had been found in some of its milk products that were within safety guidelines and posed no health risk.
Those events are "unwelcome distractions," Spierings said Wednesday. "They remind us that the world is constantly changing and we have to be agile and responsive so we can remain ahead."
The decline in first-half earnings was driven by a loss on sales from inventories in the first quarter, shrinking margins in the Australian ingredients business and a writedown in the value of the cow herd in China, Fonterra said. A weaker New Zealand dollar is helping to support the milk payout forecast, it said.