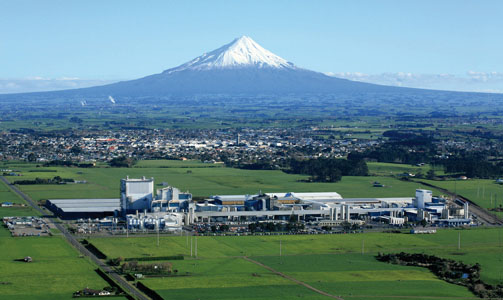 The world's largest dairy exporter cut its forecast milk payout to New Zealand farmers and said full-year earnings plunged.
Fonterra Cooperative Group Ltd., the world's largest dairy exporter, cut its forecast milk payout to New Zealand farmers and said full-year earnings plunged.
The Auckland-based company will pay its 10,500 farmer suppliers NZ$5.30 ($4.27) a kilogram of milk solids in the current season, down from a previous estimate of NZ$6, it said in a statement. It raised its projected range for the 2014-15 dividend to 25 to 35 cents a share from 20 to 25 cents.
Dairy prices have slumped this year as China, Fonterra's biggest customer, bought less in fortnightly auctions after earlier building up its milk-powder stocks. Rural spending may slow as the payout to farmers slumps by about NZ$5.4 billion from the 2013-14 season, economists at Westpac Banking Corp. said in an e-mailed note.
"This announcement will put real pressure on some farmers' cash flows," Ian Brown, chairman of the Fonterra Shareholders Council, said in a statement. The cut "will add to the challenges being faced on-farm," he said.
The New Zealand dollar fell after Fonterra's statement, dropping to as low as 80.42 U.S. cents, the weakest in 12 months. It bought 80.74 cents at 1:35 p.m. in Wellington.
Farmer confidence fell to a two-year low in the third quarter, Rabobank said yesterday, citing the results of a survey. About 47 percent of dairy farmers expected the performance of their business to worsen in the next 12 months.
Record Payout
Fonterra confirmed a record payout for last season of NZ$8.40 per kilogram of milk solids and a dividend of 10 cents.
Last season's milk price "represents an injection of more than NZ$13.3 billion into the New Zealand economy for the season," Chairman John Wilson said in the statement. However, "the market is currently influenced by strong milk production globally, the impact of Russia's ban on the importation of dairy products, and the levels of inventory in China," he said, adding there is "further downside risk" to this season's forecast.
Fonterra's 2014-15 payout forecast assumes the price of whole milk powder rises to about $3,500 a metric ton by March, Chief Executive Officer Theo Spierings said on a conference call. The price rose 0.6 percent to $2,692 a ton at the most recent GlobalDairyTrade auction on Sept. 16 after falling to a two-year low at the Sept. 2 sale.
Dividend Forecast
Fonterra said its raised dividend forecast reflects the lower cost of milk at its plants.
"A lower forecast farmgate milk price reduces input costs in our consumer and food-service businesses," Spierings said. "We do expect to deliver increased returns as a result of a recovery in margins on our products."
Shares in the Fonterra Shareholders' Fund, a publicly traded trust that tracks the cooperative's dividend payout and earnings, rose 3 cents to NZ$6.32.
Earnings before interest and tax fell 50 percent to NZ$503 million in the year ended July 31, the company said. Net income dropped 76 percent to NZ$179 million even as revenues rose 19 percent to NZ$22.3 billion.
The company faced higher input costs and competition in New Zealand and Australia limited its ability to increase prices, curbing margins, Spierings said. Capacity constraints meant it wasn't able to process all the milk supplied into powder, forcing it to make less profitable products, he said.
Fonterra, which plans to unveil a new global consumer brand next week, last month announced it will buy a stake in a Chinese infant formula maker as it seeks to tap the nation's lucrative baby milk market.
The partnership "puts our high-quality dairy ingredients in a strong position to capitalize on the opportunity in China's rapidly growing infant formula market with a respected local partner," said Spierings.