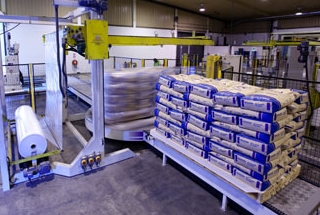 The plant will be the New Zealand dairy company's first wholly owned and operated ingredients plant in Europe.
Source: Fonterra
New Zealand-based Fonterra Co-operative Group Limited has commissioned its new dairy ingredients plant in Heerenveen, in the north of the Netherlands.
The plant produces whey and lactose specialty ingredients that will be used in high-value pediatric, maternal and sports nutrition products by Fonterra and its global customers. 
Built on a 25-hectare site that has been developed in partnership with Dutch cheese manufacturer A-ware Food Group, the plant is Fonterra's first wholly owned and operated ingredients plant in Europe.
Chief Executive Theo Spierings said the plant forms part of Fonterra's fully integrated global supply chain from the farm gate direct to global consumers, using Fonterra's milk pools and manufacturing sites in New Zealand, Australia and Europe.
"The commissioning of our new plant in Heerenveen further strengthens our ability to deliver high quality, advanced dairy nutrition that meets the needs of our priority markets and global customers," Spierings said. "Fonterra has substantial intellectual property in the manufacture of functional whey protein ingredients and had been looking for some time for a source of high quality whey to enable us to commercialize these innovations.
"Our partnership with A-ware Food Group fits well with our strategic priorities aimed at increasing the volume and value of our ingredients and branded products," he added.
Fonterra Regional Director for Ingredients in Europe, Middle East, Africa, Russia & CIS (EMEA) Hans Huistra said the plant's location and capacity would enable Fonterra to better serve its European and global customer base, delivering a secure, reliable source of high-quality ingredient products.
The new plant will produce 5,000 metric tonnes of whey protein and 25,000 metric tonnes of lactose annually.  It will operate around the clock: 24 hours a day, 365 days a year. Approximately 50 new employees currently work for Fonterra at the site.
A-ware Food Group's adjacent cheese plant was also recently commissioned on schedule.
Fonterra is a global leader in dairy nutrition, supplying dairy ingredients to many of the world's leading food companies. Fonterra is also a market leader with its consumer and foodservice dairy brands in Australia/New Zealand, Asia/Africa, Middle East and Latin America.
The farmer-owned New Zealand co-operative is the largest processor of milk in the world, producing more than 2 million tonnes of dairy ingredients, specialty ingredients, foodservice products and consumer products every year. Drawing on generations of dairy expertise, Fonterra is one of the largest investors in dairy based research and innovation in the world. Its staff of more than 16,000 works across the dairy spectrum from advising farmers on sustainable farming and milk production, to ensuring the company lives up to exacting quality standards and delivering every day on its customer promise in more than 100 markets around the world.