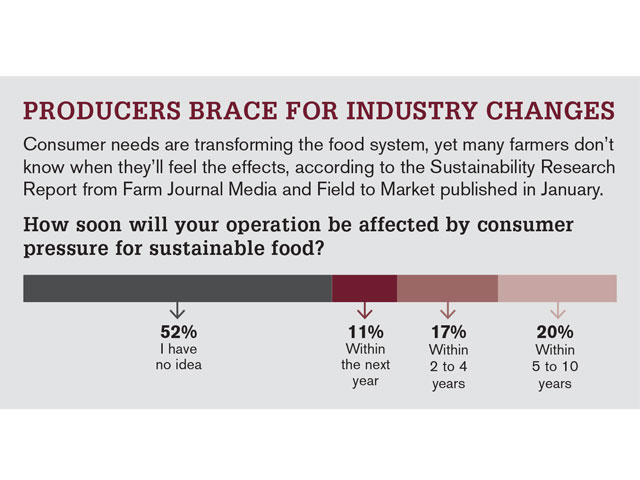 Ranchers and farmers seeking to rebuild consumer trust in the food system can consider three tactics to increase understanding about the work they do, says Townsend Bailey, director of U.S. supply chain sustainability for McDonald's. It's critical for the global restaurant company, consumers and other stakeholders to appreciate the value of agriculture.
"Our shared interests have to be beneficial for farmers and ranchers," says Bailey, who delivered the Trust In Food™ opening keynote at the 2018 Top Producer Seminar. The restaurant company has 37,000 locations in over 100 countries and serves 69 million customers daily.
Build Ties. The first tactic Bailey shares is to find ways to "signal to the far end of the supply chain all of the good work you're doing."
McDonald's spotlighted farmer and rancher contributions to the food system as a sponsor of this year's Environmental Stewardship Awards Program, presented by the National Cattlemen's Beef Association. This year's national winner is Jim O'Haco, Cattle Company of Winslow, Ariz.
Second, Bailey encourages farmers to seek out opportunities for continuous improvement. Find ways to reduce greenhouse gas emissions, improve water quality and availability, increase biodiversity or add wildlife habitat, he says.
At the same time, it's important for farmers to realize McDonald's isn't trying to force practices on them that are economically unrealistic or without scientific merit. He acknowledges the company's decision to move exclusively to cage-free eggs by 2025 probably isn't popular with many farmers. But Bailey says the company carefully considered its options and made the decision to address customers' needs while walking alongside egg producers to support them in transitioning to cage-free systems.
Customer Focus. Bailey points out when it comes to antibiotics, McDonald's has avoided blanket, never-ever approaches and focused its efforts on antibiotics important to human medicine, which it removed from its chicken supply chain.
He shares a quote from Mike Williams, a southern California cow-calf operator and a representative to the U.S. Roundtable for Sustainable Beef: "If you want to work with me to develop tools that will help me and other ranchers and farmers improve our land, I'm all in. If you want me to check boxes, you'd better get out your checkbook." Bailey notes many producers would prefer to collaborate in that way.
Third, Bailey says, farmers and ranchers need to help educate the supply chain about the business of agriculture. "As retailers, restaurants and brands engage with ag, what should we know so that our engagement is constructive?" Bailey asks.
Sustainability isn't a perfect term, Bailey says, but the fact people use it often points to the industry's desire to ensure natural resources are properly nurtured to limit climate risks and support future generations.
"We look forward to working with you and demonstrating for our customers the positive ways ag in America is helping address society's most important issues," he says. 
Today, a startling 94% of U.S. consumers have no connection to agriculture, and 43% mistrust how their food is grown and produced. The Trust In Food™ platform is a major 10-year initiative of Farm Journal Media to rebuild trust in the food system. To learn more, visit TrustInFood.com