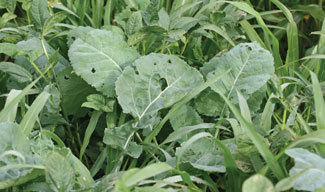 Warm-season annuals offer high-quality grazing during summer pasture slump
In the Nebraska Panhandle, forage cocktails are supplementing grazing and making it easier to manage cattle when rotating between dryland pastures and irrigated crop ground. Forage cocktails are made up of three components: annual grass for biomass production, a legume for nitrogen fixation and a brassica or deep-rooted crop to alleviate soil compaction. 

At Plum Thicket Farms LLC near Gordon, Neb., Rex and Nancy Peterson and their son, Patrick, juggle 2,300 no-till acres with a rebounding cow herd. In 2014, a late-planted  (July 9) summer cocktail of annuals provided quality grazing about the time their normal pastures started to sag.

In September, the offspring of first-calf heifers were weaned with nose flaps for a week, then separated and moved to the lush summer cocktail forage until frost approached. The calves were then moved to an irrigated cover crop behind irrigated wheat. 

"Our mixtures included brown mid-rib [BMR] sorghum, and if it gets frosted, it poses a threat of prussic acid poisoning for grazing animals," says Nancy Peterson.
The steers in that group gained 2.2 lb. per day on the cocktail, and the heifers put on 2.28 lb. per day. 

Another group of calves stayed on their moms until Oct. 8, then spent a week with nose flaps before being turned out on the frosted summer cocktail (now safe from prussic acid fears). They remained there until they cleaned up the forage collards. The steers gained 1.44 lb. per day, and the heifers 1.1 lb. per day, Peterson says.

"This experience tells us we need to get the summer cocktails in the ground earlier, preferably the first week of June," she notes. "That way, we can be ready to graze them (given timely rains) during the first two weeks of August when pasture quality drops."

Peterson recommends saving one field of cocktails blended without BMR sorghum to graze just before frost to avert the prussic acid problem. 

"These cocktail mixes are not inexpensive, and it takes considerable effort to mix and plant them [no-till drill]," Nancy explains. "But after the drought of 2012, we see them and our pivots as insurance against drought."

Peterson stresses the importance of weed control—it's a potential nightmare given the diversity of plant types.

South of Plum Thicket Farms near Scottsbluff in far-western Nebraska, Karla Jenkins, a cow-calf range management specialist at the University of Nebraska-Lincoln, is comparing six forage cocktails.

"We planted BMR sudangrass or foxtail millet as monocultures, then added mixtures with soybeans or cowpeas. All had forage collards [kale]," Jenkins says. "We were a little late in planting, and it was very dry until the end of July. But once the rains came, the cocktails and monocultures took off." 

The soybeans failed to emerge in the mixtures, but the cowpeas did grow. "This shows how important it is to know what species will thrive in your area," Jenkins adds. The plots yielded 1.5 to 2 tons of dry matter per acre with total digestible nutrients readings of 62% to 68% and crude protein at 8% for the monoculture millet to 15% for the mixtures with collards, she notes. 
"These mixtures require a lot of management, such as moving cattle in paddocks on a timely basis. Still, these summer annuals could be swathed before frost and windrow grazed or baled," Jenkins says.

After only one year of formal testing, she says cocktails make valuable pasture. "As we rebuild the cow herd, forage cocktails are a tool we need to take seriously."