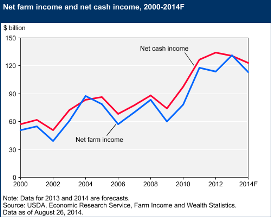 Crop production costs rise for fifth year in a row.
Farmers should prepare themselves for a thinner profit margin in 2014, according to numbers released today by the USDA's Economic Research Service.
According to the 2014 Farm Income Forecast, net farm income is expected to fall $113.2 billion this year, which represents nearly a 14 percent drop compared to last year. The reason is threefold: lower commodity prices, especially for corn; higher input costs for fertilizer, seeds, pesticides; and the end of direct government payments, thanks to changes in the Farm Bill.
Despite slimmer margins, though, farmers are still doing well; the 2014 forecast of more than $113 billion in net income is still $25 billion higher than the previous 10-year average, according to the USDA-ERS.
The report's prediction of lower crop receipts, with a $12.8 billion drop for corn alone, is no surprise, given the going rate for the grain. On Tuesday, the December futures price for a bushel of corn opened at $3.664. Farmers' soybean receipts are also projected to fall, sinking by $6 billion overall, according to the USDA report. (The November futures price for soybeans was $10.272 when the market opened Tuesday.)
Unfortunately as growers know, the cost of production is not falling. Farmers spent an additional $14.2 billion this year on production expenses. The cost of seeds, pesticide and fertilizer has increased 3.5 percent, or  an additional $2.3 billion, this year, according to the report. The biggest jump came from fertilizer, where prices have skyrocketed 17 percent this year, thanks to global demand. Seeds are also becoming more expensive. Monsanto announced in August that it plans to raise its seed prices, although by less than the steep 10 percent to 15 percent increases of years past.
The farm business to be in right now? Livestock. Feed grain prices are down 12.5 percent, thanks to lower commodity prices, and prices are up, courtesy of foreign demand for American meat and historically low cattle herd numbers. Overall, it adds up to a projected 15 percent increase in receipts for cattle producers, 20 percent for hog producers, and 21 percent for dairy farmers in 2014.