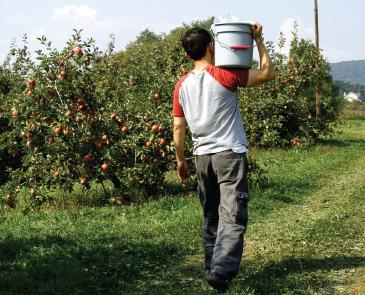 The U.S. Senate passed an immigration bill June 27 by a 68-32 vote. The bill is still pending action from the House of Representatives before it can be signed into law, but analysis of new provisions is already in full swing. Of particular interest to the agriculture sector is the proposal for a new "Blue Card program" that addresses undocumented farm workers.
The office of Sen. Dianne Feinstein (D-Calif.) has provided a summary of the framework for this program. Here are some of the relevant details:
• The Blue Card program would allow undocumented farm workers to apply for legal status.
• Agricultural workers are eligible if they can document U.S. agricultural employment for at least 100 work days, or 575 hours, in the last two years.
• Applicants cannot have any felony or violent misdemeanor convictions. They must have also paid taxes and a $100 fee to the Department of Homeland Security.
• This affords farm workers a chance at a "fast track" to legal status – they can apply for a Green Card after five years and citizenship five years after that. The path to citizenship for non-agricultural undocumented immigrants is 13 years.
Two new Agricultural Visa programs are also on the table to address the future ag workforce flow. Details about eligibility requirements, wage rates, recruitment, work, housing and more can be found here.
Groups such as the Agriculture Workforce Coalition (AWC) say they are happy with the progress that has been made to date but recognize their work is not finished.
"In the coming weeks, the AWC looks forward to working with members of the House of Representatives as that chamber begins to develop its own immigration reform proposals," the group said. "We encourage House members to ensure that any legislation contains meaningful reform to meet agriculture's current and future labor needs."