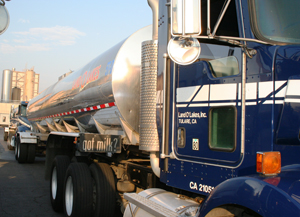 We asked leading dairy organizations for their views on Foundation for the Future (FFTF), the dairy policy proposal from the National Milk Producers Federation (NMPF). Their answers reveal a divided industry.
Associated Milk Producers, Inc. (AMPI)
"Our dairy policy platform supports family farmers, not milk volume. With that focus, AMPI:
supports FFTF's growth management component;
opposes the Federal Orders piece, as it is not in the best interest of Midwest dairy farmers;
opposes the effort to eliminate the MILC [Milk Income Loss Contract] program and replace it with a margin insurance program. AMPI supports the USDA Dairy Industry Advisory Committee recommendation to create a hybrid between the MILC and NMPF margin insurance concept by triggering MILC when margins fall below certain levels, and continuing to place reasonable limits on payments through the use of a volume cap. For those producers whose milk exceeds the volume cap, an insurance program option should be available for their milk in excess of the cap."
—Steve Schlangen, AMPI chairman of the board and Albany, Minn., dairy producer
 
California Dairies, Inc. (CDI)

Bonus Content
---
Dairy organization websites:
"CDI has been involved in the FFTF discussions since the beginning and continues to offer input to make it an even better program. While CDI has not taken a formal position yet, CDI's board did invite NMPF leadership to make a presentation in February 2011. The CDI board has shared with NMPF a list of 25 questions on all aspects of FFTF and looks forward to reviewing NMPF's responses. Because many FFTF details are not contained in the publications that have been circu-lated so far, CDI would like to examine the legislative language when it is available and prior to taking a position on the program."
—Richard Cotta, president, California Dairies, Inc.
 
Dairy Farmers of America (DFA)
"DFA supports FFTF and will continue working to ensure that resulting policy will have a positive impact for DFA members. This package of policy proposals aligns with DFA's belief that dairy producers need policy that addresses volatility, while recognizing the importance of allowing for industry growth when the market accommodates or demands it. With support from DFA farmer-owners, FFTF has been developed to keep U.S. producers competitive in the global marketplace."
—John Wilson, DFA senior vice president and chief fluid marketing officer
 
Dairylea
"Dairylea is supportive of FFTF. Our board recognizes the importance of a program that addresses one of the biggest challenges our members face—price volatility. There was significant effort on the part of many industry stakeholders, including Dairylea, for the past two years to
develop this plan.It includes aspects of many individual group plans that were developed and is representative of what the industry can achieve when working together. We feel the comprehensive plan protects producers' margins, manages volatility in the market and encourages growth."
—Bill Beeman, chairman of the board, Dairylea Cooperative Inc.
 
Family Dairies USA
"We acknowledge efforts put forth in NMPF's FFTF. We support removing the dairy price support program. We believe a hybrid MILC program with a margin trigger concept and expanded milk coverage can serve as a viable safety net in lieu of insurance. We cannot support the Federal Orders reform piece in its entirety as written and have reasonable concerns with elements of the growth management piece. We support some concepts of the plan and will work collaboratively to obtain meaningful reform."
—David Cooper, general manager, Family Dairies USA
 
Foremost Farms USA
"Foremost Farms fully supports FFTF as the best chance dairy producers have for significant dairy policy reform. All four parts of the proposal work in concert to address volatility and allow for the U.S. dairy industry to grow and compete globally. To structure a comprehensive plan like this, there was a lot of compromise and concern among dairy producers with very different philosophies on some of the plan components. In the end, it was all about identifying what was necessary for dairy producers to look to the future and compete in a global marketplace."
—Dave Fuhrmann, president, Foremost Farms USA
 
Idaho Dairymen's Association
"Our industry has a once-in-a-generation opportunity to make dramatic improvements in dairy policy, but the only way we'll achieve that is to work together, both in Idaho and across the country, to pursue a specific program. The package of reforms contained in FFTF represents the best approach going forward. The new program, focused on margins and not just milk prices, has great appeal to Idaho's dairy farmers, whose economic prospects in recent years have been challenged by the rise in feed prices."
—Mike Roth, president, Idaho Dairymen's Association, and Jerome County, Idaho dairy producer
International Dairy Foods Association (IDFA)
"IDFA has endorsed a set of proposals that we believe will move our dairy industry in the right direction. Consistent with our past positions on dairy policy, our proposals call for providing producers with better tools to manage risk and are less distorting to our markets. In addition, we continue to endorse proposals that will make our federal milk marketing system less complex. Unfortunately, NMPF's plan includes Federal Orders changes that complicate the system as well as add new restrictions on milk supplies. These won't encourage industry growth and opportunity."
—Connie Tipton, president and CEO, International Dairy Foods Association
 
Land O'Lakes
"There is broad support among Land O'Lakes' dairy membership for the principles and provisions of FFTF. We can't let a desire for perfection get in the way of progress, and we believe FFTF holds great potential for enhancing the long-term stability and viability of the dairy industry. By combining margin protection, marketing order revisions and market stabilization initiatives, FFTF can help create a more market-oriented and less volatile dairy industry environment. This initiative also offers producers meaningful options in terms of risk management, as well as helping to shape a more growth-oriented marketplace in which America's dairy producers can fully participate in the domestic dairy marketplace and an increasingly robust export market."
—Jim Fife, senior vice president, member affairs, Land O'Lakes, Inc.
 
Northwest Dairy Association
"We believe FFTF will help foster a more economically viable and secure future for U.S. dairy producers. There are no easy solutions. This comprehensive package of dairy policy changes replaces the current federal support system with a new Dairy Producer Margin Protection Program to help protect farmers when margins are compressed by low milk prices and/or high feed costs. The Dairy Market Stabilization Program helps address periodic imbalances in supply and demand. Northwest Dairy Association/Darigold supports the FFTF proposal."
—Jim Wegner, senior vice president, Northwest Dairy Association/Darigold