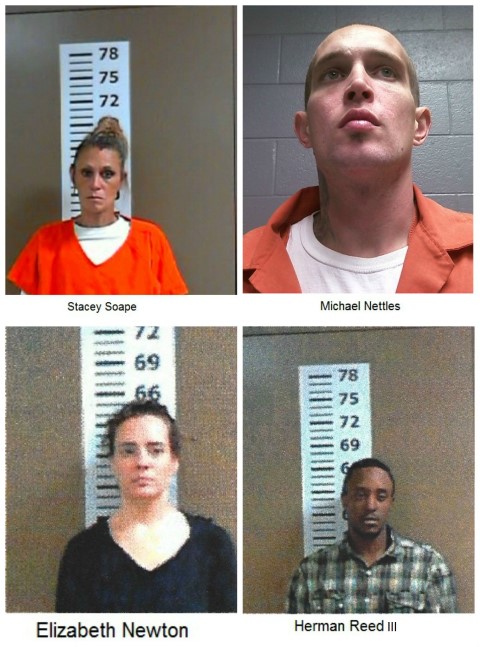 Four Carthage, Texas suspects were indicted Nov. 6, 2014 after being charged with theft of livestock after stealing one cow from a neighboring rancher in Panola County, Texas.
Texas and Southwestern Cattle Raisers Association (TSCRA) Special Ranger Larry Hand and Panola County Constable of precincts 2 and 3, Mitch Norton led this investigation. TSCRA Special Ranger Jimmy Dickson assisted with the investigation.
The suspects, Stacey Soape, 42; Michael Nettles, 31; Elizabeth Newton, 38; and Herman Reed III, 32, all from Carthage, were indicted by the Panola County Grand Jury and arrested. Soape's bond was set at $10,000 and Nettles, Newton and Reed were each arrested on $5,000 bonds.
Norton received a tip on July 1, 2014 referencing one cow that was sold by a person who didn't own cattle. After receiving the tip, Norton called Hand to make him aware.
According to Hand the cow was unbranded and was sold at an East Texas livestock auction on June 28, 2014. He said the cow was traced to a ranch in Cherokee County, Texas. After a lengthy investigation, the cow was eventually identified by the owner with a photograph and unique color markings. It is alleged that Newton, Nettles and Reed knowingly helped load the suspicious cow into Soape's trailer, and Newton and Nettles helped Soape haul the cow to the cattle auction.
"This case is a good example of local law enforcement and TSCRA Special Rangers working together to seek justice for ranchers," said Hand. "Cattle theft remains a major problem in Texas today. It is critical for ranchers to practice branding so we can do our best to recover cattle when they are stolen or lost. "While the cow stolen in this case was recovered without a brand to easily identify her, this is not always the case. Branding remains the best way for us to get stolen cattle back to the rightful owners."
TSCRA would like to thank the Panola County Sheriff's Office; Panola County Constable, Bryan Murff; the Panola County District Attorney's Office; the Jasper County Sheriff's Office; and the Jasper Police Department for their assistance in this investigation.

Source: Texas and Southwestern Cattle Raisers Association