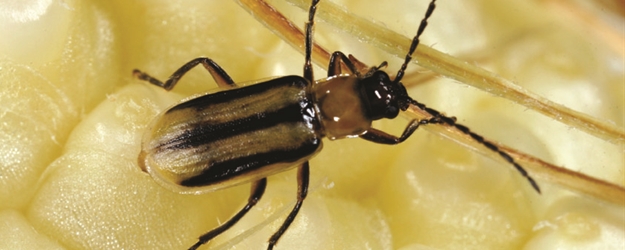 Scientists suspect it is more widespread than we know
University entomologists report that western corn rootworm (CRW) resistance to the Bt toxin Cry3Bb1 has been found in fields in four states. Nebraska now joins Illinois, Iowa and Minnesota with confirmed resistance.

"It's now a regional problem," notes Lance Meinke, an entomologist at the University of Nebraska-Lincoln. He says the determination in Nebraska was made during the 2012/13 season.

Scientists in Colorado, Kansas, Missouri, New York, South Dakota and Wisconsin also report rootworm damage in fields planted with corn hybrids containing the single Bt toxin. However, researchers in those states have not made a final determination if resistant populations are present.

Eileen Cullen, University of Wisconsin Extension entomologist, says she has seen levels of "unexpected damage" in the southwestern part of the state during the past several years. 

The "progeny from suspect fields are in on-plant corn assays" that the USDA–Agricultural Research Service has underway, Cullen says. 

"Results are a few months away," she adds.

Eastern growers at risk too. While the CRW resistance problem in the Midwest has garnered the most attention, entomologists in Pennsylvania and New York see an uptick in problem fields as well. 

Elson Shields, an entomologist at Cornell University Extension, reported a suspect field in Cayuga County, N.Y., this past September. Shields notes that the "hybrid in question had extensive goose necking, lodging and severely pruned roots characteristic of corn rootworm injury."

While Cry3Bb1 has been suspect in most of the CRW resistance cases, the practice of continuous corn and the repeated use of a single toxin are putting increased stress on all of the Bt toxins that are currently available. 

Aaron Gassmann, Iowa State University entomologist, confirmed he found CRW resistance to the mCry3A toxin in Iowa in 2013. 

Ken Ostlie, University of Minnesota Extension entomologist, is finding similar problems in his state. 

"We continue to receive reports of Cry3Bb1 performance problem fields, although with VT Triple and VT Triple Pro being phased out, the issue will be masked by Cry34/35Ab1 in SmartStax," he says. "We've also verified cross resistance with mCry3A at several locations. We also have had some troubling reports the past two years of performance problems with SmartStax and even Herculex Xtra but don't have confirmed resistance to Cry34/35Ab1 yet."
---
Take Action This Season
Most scientists are concerned the resistance issue will continue to worsen if farmers don't adopt a more comprehensive integrated pest management program. Consider these recommendations to reduce your risk in 2014:

1. Rotate your crops. If you plant continuous corn, make it a point to rotate fields on a schedule every three to four years. 

2. If you must grow continuous corn, rotate modes of action like you would with herbicides. Avoid using the same trait year after year by planting hybrids with different Bt traits or multiple Bt traits for rootworm. Alternatively, plant a conventional hybrid with a soil insecticide. Using a soil insecticide with a Bt hybrid is not recommended by most entomologists. 

"We have found in our field trials that insecticide on top of a single trait only improves relative root protection if the single trait is starting to fail in the field (i.e., due to resistance evolution)," explains Lance Meinke, University of Nebraska-Lincoln entomologist. "In this case, root protection improves but selection for resistance to the trait continues, so this is not a good long-term solution to the problem. 

"Root protection from single traits that work well does not increase when insecticide is added on top of the trait," he adds.  "Also, we have not seen an increase in root protection when an insecticide is added on top of a pyramid containing Cry34/35Ab1. So in most cases, we do not recommend using a soil insecticide on top of a pyramid that contains Cry34/35Ab1."   
3. Scout cornfields for damage this summer and report problems to your state entomologist for further diagnosis.