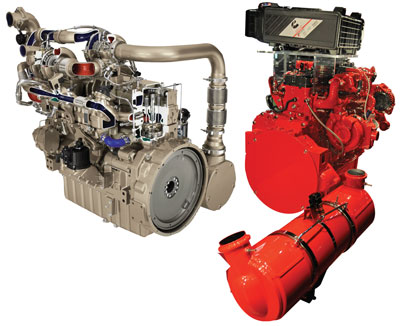 On Jan. 1, 2011, engines for off-road applications, including farm equipment, will have to meet the latest Environmental Protection Agency (EPA)–mandated emission standard.
When interim Tier 4 goes into effect, it will require a 90% reduction in particulate matter and a 45% reduction in nitrogen oxide (NOx) for engines ranging from 174 hp to 750 hp. These figures are in addition to the requirements of the Tier 1, Tier 2 and Tier 3 stages of the regulation, which were outlined in the Clean Air Act when it was amended in 1990.
 
Tier 4 is a significant hurdle for manufacturers to jump. Not all of them will be able to use the same technology to comply with Tier 4, as they did with the other tiers. To meet past regulations, engine manufacturers employed a combination of technologies, including variable-geometry turbochargers, high-pressure common-rail fuel systems, recirculating exhaust gas and other in-combustion alterations. Now, with interim Tier 4, there will be tangible changes to 174 hp and higher engines.

Two concepts have emerged as companies prep their engines for the new emission expectations. The first is selective catalytic reduction (SCR) technology. The second is pairing existing engine systems—cooled exhaust gas recirculation (EGR) and advanced fuel systems—with aftertreatment systems, including diesel particulate filters (DPFs).
All engine manufacturers are increasing engineering and research to ensure they are complying with government standards. Whichever path is chosen, the engines will be outfitted with a DPF or a SCR system, which are installed outside the engine footprint. Although pricing information is not available, here's an overview of the engine technologies and how ag equipment manufacturers are moving forward to meet interim Tier 4.
Engines with SCR. In February 2009, AGCO unveiled that it would pair SCR with AGCO Sisu Power engines on AGCO DT Series, Challenger MT600C Series and Massey Ferguson 8600 Series tractors. SCR requires a 32% aqueous urea solution (diesel exhaust fluid, or DEF) that needs to be refilled about every other time the diesel tank is refilled.

The SCR system mixes NOx emissions with DEF, so nitrogen and water are the final engine emissions to be released into the air.
 
"We went with SCR because it's the complete aftertreatment. It's after the engine's combustion process, so the engine can be tuned for economy and power, and we take care of the NOx on the back end," says Jason Hoult, AGCO product marketing manager.

Tractors outfitted with SCR will have a DEF gauge on the dash panel, just like a fuel gauge. If the operator ignores the warning when DEF is low, the tractor will go to 50% power when it runs out.
CNH is also using SCR for the Interim Tier 4 standard, outfitting its Case IH and New Holland machines with engines from Fiat Powertrain Technologies (FPT). A sister company to CNH, FPT has been making SCR engines for over-the-road trucks since 2006, particularly in Europe, where stricter emission rules are in effect.

"We will use SCR for engines greater than 100 hp, as this technology represents an outstanding opportunity since producers consistently rate fuel efficiency as their most important criteria when purchasing a tractor. Our equipment less than 100 hp will be outfitted with an EGR solution
because fuel efficiency has less of an overall impact on the cost of ownership," says Leo Bose, training manager for Case IH North America.
 
DEF should be readily available, as many engines for the on-highway diesel market use SCR to meet the industry's regulation. AGCO, Case IH and New Holland dealers also plan to supply DEF, which will be available in 2½-gal., 55-gal., 275-gal., 330-gal. or bulk-size containers. It's important to note that fertilizer grade urea and DEF are different. Also, tractors with SCR have sensors to detect non-DEF fluids in the DEF tank.
Engines with EGR and DPF. Engine makers Cummins and John Deere are turning to an EGR solution with DPF to meet emission standards.

Cummins showed its interim Tier 4 engine technology at Ag Connect Expo in January. The company outfits its new line of engines with an integrated intake-to-exhaust aftertreatment system that includes a DPF. As of early 2010, Cummins had more than 18,000 hours of field testing with prototype interim Tier 4–compliant engines.

"Keeping things simple is Cummins' approach to technology," says Rob Neitzke, the company's director of off-highway business. "We've used SCR for on-highway engines, but for off-highway we'll use cooled EGR and a DPF. The filter can be mounted in different configurations so we can work with our machinery partners to find the best overall engine footprint for the vehicle."
John Deere's engines feature a diesel oxidation catalyst paired with a DPF. This allows the heat from the engine and the diesel oxidation catalyst to break down particulate matter.
 
"We've been working on meeting interim Tier 4 for four years," says Geoff Stigler, product marketing manager for John Deere Power Systems. "We've taken an evolutionary approach to meet this regulation by building on our Tier 3 field experience."
 
An injector puts a small amount of diesel fuel into the catalyst, which raises the temperature for the regeneration process. The regeneration occurs passively, without operator action, at 575°F. If the amount of particulate matter exceeds what can be handled with passive regeneration,
active regeneration can be engaged to heat the system to 1,100°F. Operators have the ability to inhibit active regeneration if they are in a potentially hazardous environment. John Deere says the rate of diesel needed to be injected for this process is about ½% of fuel consumption.
Due to how they source engines, some machinery companies, such as Claas, will have two different engine technologies powering their brands.
 
"Globally, Claas sources engines from seven companies," explains Russ Green, president of Claas of America. "In North America, we use CAT and Mercedes engines in our equipment."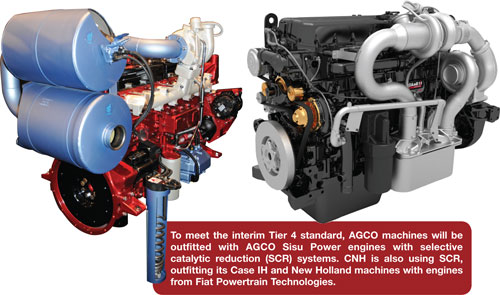 To meet interim Tier 4, Lexion combines and Claas forage harvesters will use either EGR or SCR technology, depending on the engine manufac-turer's chosen methods.
 
"Eight-five percent of our distributions goes through Caterpillar dealerships, which have had hands-on experience with these engine technologies since 2007, when the on-highway market adopted them," Green says.
Tools and training. The new engine technologies require operator and service education and special maintenance considerations.
 
AGCO hosted the Experience a Tractor Revolution tour for customer and dealer education.
Case IH is conducting the Red Power Tour, a six-city tour across North America, highlighting its engines with SCR technology.
 
John Deere is launching a set of tools for dealers to download data from the engine to show operators how it performs.
 
In January 2014, the final stage of Tier 4 emission regulations takes effect—and a new lineup of engines will head to the field. With evolving engine technologies, it's important to know how your machinery meets EPA regulations and what that means for your farm operation.
---
You can e-mail Margy Fischer at mfischer@farmjournal.com.