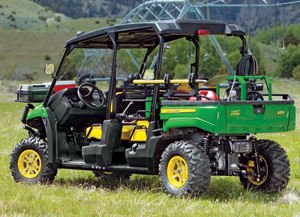 John Deere's new Gator Mid-Duty XUV 550 and 550 S4 crossover utility vehicles have the ability to seat up to four people. The 550 models are available with high-back bucket seats or bench seats.

The 550 S4 comes standard with two rows of bench seats and can be transformed by folding down the rear seat to become a cargo rack if more capacity is needed. Both vehicles have a top speed of 28 mph, four-wheel-drive and a cargo box that can carry up to 400 lb.

Built with fully independent, double-wishbone suspension, the Gator XUV 550 and 550 S4 provide 9" of wheel travel and up to 10.5" of ground clearance. These Gators also feature a new ergonomically designed operator's station and come in two paint options: Realtree Hardwoods HD Camo and traditional John Deere green and yellow.

There are more than 75 available attachments and accessories to customize all Gator XUV models, such as cabs, brush guards and custom alloy wheels. Visit your John Deere dealer or www.johndeere.com/gator.