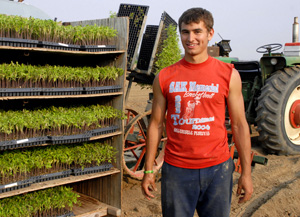 Only 118,613 U.S. farmers are under the age of 36
A handful of young men and women return to family farms each year to stake their claim to a career in production agriculture. Jay Planson intends to be one of them when he graduates from
college in four years.

"I'm planning to get a business degree," says Planson, whose family owns a diversified grain operation near Stryker, Ohio.

Business acumen is increasingly needed in the topsy-turvy world of production agriculture, and college degrees reflect young adults' efforts to acquire it. However, young producers remain a rare breed on the farm. USDA reports that only 118,613 farmers under the age of 36 were employed in production agriculture as of 2009. That's not good news, considering the average age of U.S. farmers hovers around 60. USDA predicts 500,000 farmers will retire within the next 20 years.
Assistance Outlets. Agriculture Secretary Tom Vilsack underscored the need for young farmers, and how USDA is responding to that need, during his presentation at the 84th annual National FFA Convention this past fall.

Vilsack highlighted USDA programs committed to investing more resources to recruit the next generation of farmers and finding strategies to make them successful. For instance, the USDA Office of Advocacy and Outreach assists people who want to learn about USDA efforts to support new producers. In the past two years, 40% of all USDA farm loans have gone to beginning farmers and ranchers. In 2011, the department provided $18 million to universities and Extension programs to help new farmers.

Additionally, the USDA National Agricultural Library is working in partnership with the American Farm Bureau Federation to develop a curriculum and training clearinghouse at Start2Farm.gov. This site will serve as a national one-stop source of beginning farmer and rancher education and training materials.

USDA's Risk Management Agency (RMA) is working with partners to support young, motivated entrepreneurs who are exploring new ways to market products. RMA is funding the Field Guide to the New American Foodshed (FoodshedGuide.org), a tool designed to assist direct-market farms and ranches and the lenders, accountants and other businesses that work with them.

Despite USDA's efforts, some young entrepreneurs and young farmer organizations say progress is too little and too slow. The National Young Farmers' Coalition, in Tivoli, N.Y., recently released a study that outlines some of the challenges young producers face in entering production agriculture.

Based on feedback from 1,000 young farmers, the survey found:
78% ranked lack of capital as a top challenge, with another 40% ranking access to credit as the biggest challenge.
68% of participants ranked land access as the biggest challenge.

While Vilsack does not deny the challenges beginning farmers face, he does believe opportunities are beginning to open up for them.

"Young people should continue to engage in policy that affects them, but they shouldn't be limited by it," Vilsack says. "We need them to think big, innovate and tackle the important challenges facing American agriculture and the nation as a whole."