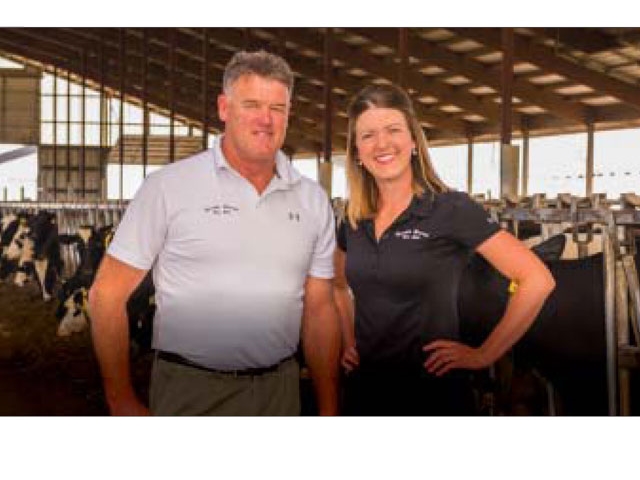 By Sarah Beth Aubrey
Wisconsin duo focuses on management shift
It's not often that father-daughter teams handle the daily management of a Midwestern dairy and row-crop operation. 

Yet there aren't a lot farmers like the dynamic duo of Ron and Zoey Brooks, either. The pair's can-do attitude and ever-busy schedule keeps them moving at a naturally brisk pace. So when they were named finalists for the 2016 Top Producer of the Year and won a year's worth of executive coaching from myself and my firm, Aubrey Coaching & Training, they weren't sure how they would fit it in. 

Coaching For Coaches. Ron hadn't thought of himself as a CEO. 

"Until Zoey came on board, I never considered myself an executive because I was too busy trying to be everything else," he explains.
Although most of the coaching sessions took place virtually, Ron initially worried about the time commitment. Yet he soon changed his thinking by harkening back to his and Zoey's athletic roots. Ron even coached Zoey in basketball. "We are both athletes, instructors and mentors and know full well the value of a good coach," he says.

Ron and Zoey decided to focus on their management transition from an older male CEO to a younger female COO who will become CEO in the future. "I was concerned that employees, and the industry as a whole, would struggle with accepting Zoey's gender and youth," Ron explains. "But for the most part, I have learned that those concerns have been overcome." 
Focus On Management. As part of the Farm CEO Coach program, Ron and Zoey took the Gallup StrengthsFinder assessment and underwent training to discuss their strengths, build leadership skills and explore strategies to work with employees. The program included interviews with key employees and a discussion of the results. 

Ron found that combination of insight helpful. "I think the biggest benefit was discussing our individual weaknesses together ..." he says. "This information is much more useful when everyone in management identifies and acknowledges it."

Ron and Zoey know working through a management transition is a long process, but they have strong family support including Ron's father, Dodge, and Ron's three other daughters. All maintain a strong interest in the farm. 
Leading From Strengths. To Ron, the most useful aspect of the coaching process has been to have independent third parties look at his and Zoey's management styles and business with a different lens and give unbiased feedback. Going through the Farm CEO Coach process has also enriched Ron and Zoey's understanding of each other.

Through that process, Ron and Zoey have committed to making specific changes and additions they believe will benefit their farm for the long term. 

As it turns out, even great coaches play the game better with a little support from the sidelines.