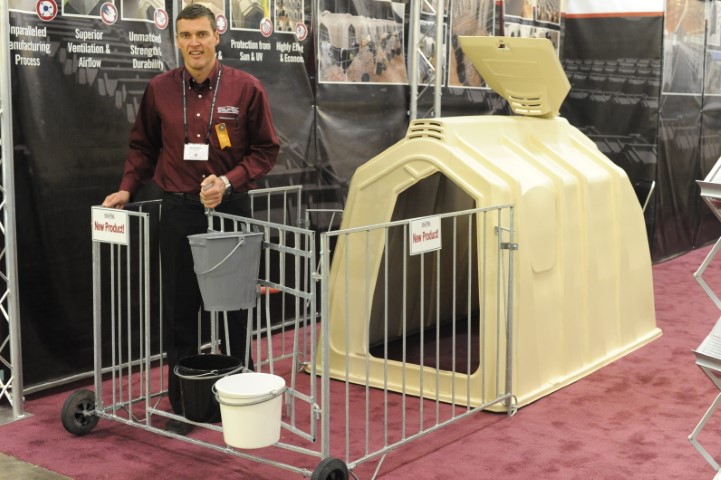 New products for efficiency and profitability.
Spend time talking to the people responsible for designing all the neat and nifty products and services on display in World Dairy Expo's (WDE) Trade Show, and you'll sense a common thread. In many cases, direct input from farmers is what moves these products from the concept stage to marketplace reality.
Listening to dairy farmers describe the shortcomings of the cattle panels traditionally used as fencing for individual calf hutches planted the seeds for the design of Calf-Tel's new premium fence system. The company introduced the system to the world dairy market at WDE in 2013.
"The panel-style fences used on many U.S. dairies are affordable and can get the job done," says Joe Weber, Calf-Tel marketing manager. "But we also felt there was a need for a premium, heavy duty fencing system offering greater efficiency, flexibility and durability."The Calf-Tel system, made of extremely rugged and durable galvanized steel, was developed in Germany in 2006 by Bernd Kleiner, the company's European business development manager.
"When we talked about this to family farmers in Europe, they told us that getting in to the pens to work with calves was often difficult, especially for older and younger people on the farm. And the panels made cleaning much more difficult."
To address the access issue, Kleiner designed a fully functional front door that opens inward and outward. "It allows for one-hand operation, so the manager or worker can easily access the animal in the fenced area," he notes, adding that a dual-lock feature on the door ensures calves will stay put while workers are busy in the pens.

To facilitate more efficient cleaning, the fence folds in and over the calf hutch. Two mounted wheels and rugged feet brackets make the entire fence extremely mobile.
"Compared to panels, there isn't much labor involved," Kleiner says. "With a forklift or a skid steer, you can easily move the entire fence to a wash area, clean and disinfect it and then move it back to where you want it."
Getting the concept from the design stage to the marketplace involved extensive field-testing. "That's the advantage to working with a welded product," Kleiner says. "We would make several prototypes at a time, then take them out to farms for testing and listen to the farmers about what features worked well and what needed improvement. Then we would take that information and make our modifications. In the end, that resulted in the kind of product we were sure farmers would want because in many ways they were the ones who finalized the design."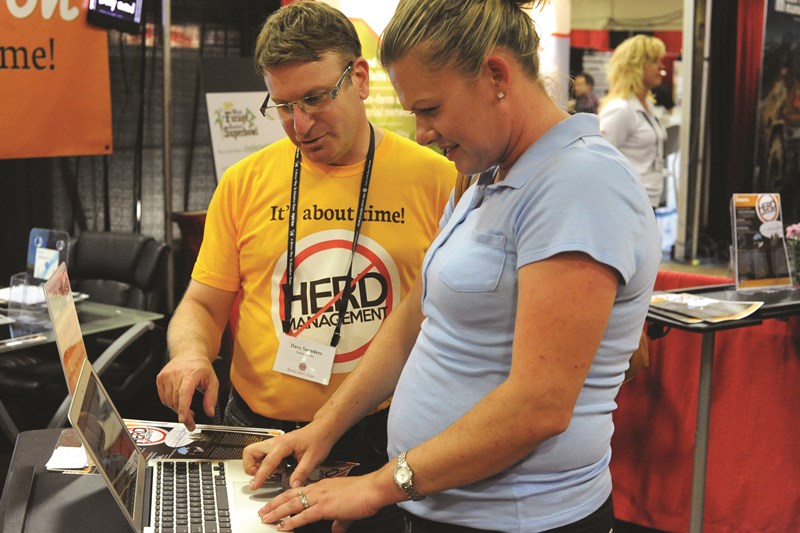 A cloud-based platform allows Farmeron's farmer-clients to share production information with their entire farm management team.
---
Go high-tech
A similar approach went into bringing Farmeron's revolutionary, cloud-based farm management system to market. Computer programmer Matt Kopic came up with the idea while watching his father, the owner of a small farm in Croatia, struggle with farm record-keeping chores.
"The records were all spread out in many different places—notebooks, computer files and spreadsheets," explains Dave Saunders, vice president of business development at Farmeron. "It was hard for him to organize that information and get a good handle on how his farm was doing as a business."
Kopic founded Farmeron in 2010, after graduating with a bachelor's degree in computer science from Zagreb University. His goal was to integrate all the different software, services and computer equipment that farmers were using for different record-keeping activities on their farms. It would give farmers a complete picture of what was happening in their business and enable them to make solid management decisions.
Initially, Kopic planned to develop desktop and web versions of his product. But he abandoned the desktop software in favor of creating a product that operates in the cloud.
"You can use any device that has a browser with a connection to the internet—whether it's a mobile phone, tablet or laptop computer—to access the information in your account. You're not tied to working in just one location," Saunders says.
This way, the entire farm management team—veterinarian, nutritionist, herdsman, etc.—can access records in real-time.
"You can have people in different places all working simultaneously to help you manage your farm as a business," he adds.
With a cloud-based program, all of the data is updated daily. "Everybody involved in your business will always have access to the very latest information in your account."
In 2011, Kopic spent six months visiting farms in the U.K. to get input from farmers on how to construct his software. Meanwhile, he began assembling a team of computer experts: database experts who understood cloud-based architecture and online security; programmers who would make sure everything in the system flowed logically; and user-interface and user-experience experts who could take very complex data sets and make it simple to use.
The end result is a program that allows dairy producers to easily track and analyze all of their production and financial records in one place. Farmers can monitor milking performance, rations and feed inventories, cattle inventories and locations, genetics and fertility rates, and financial information. The program can also run simulations on likely outcomes of management decisions.
"For example, you can see what would happen if you add 50 to 100 cows to your operation or if you made a significant change in your feeding program," Saunders says. Familiarizing dairy producers in North America was Farmeron's goal in coming to World Dairy Expo for the first time in 2013.
"When farmers first hear about us, they tend to think we're just a herd management program," Saunders explains. "But what we really are is a total farm management program that can help dairy producers understand their whole farm as a business."