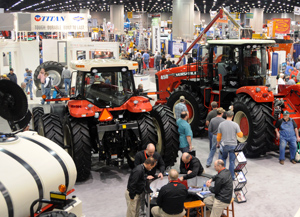 Your exposition planner for the 2013 National Farm Machinery Show
February is the time of year to make a trip to Louisville, Ky., for the country's largest indoor farm show. Before the hustle and bustle of planting prep is in full swing, come see row after row of new tools and iron at the 48th annual National Farm Machinery Show (NFMS) from Feb. 13 to 16.

The Kentucky Exposition Center, home of NFMS, has grown through a series of renovations and expansions during the past few years. With more than 1.2 million square feet of exhibition space and more than 850 exhibitors, this year's show will have something that appeals to every farmer's interest.
The event will feature machines of all sizes, irrigation equipment and more.
---
Show exhibits include grain-handling and storage equipment; computers and electronics; tractors and combines; tillage implements; planting, fertilizing and spraying equipment; alternative energy; trucks and trailers; irrigation equipment; livestock feeding and handling equipment; buildings, barns and fencing; shop tools; and more.
During the four-day show, exhibit halls will be open from 9 a.m. to 6 p.m. Admission is free; parking costs $8. Parking for RVs is available but requires advance registration.

This year, NFMS will host the 45th annual Championship Tractor Pull, sponsored by Syngenta. Each night at 7:30 p.m. and with an additional event on Saturday at 1 p.m., the adjacent Freedom Hall will be home to the contest, which attracts the best competitors in the country with more than $200,000 in prize money. The tractor pull packs the arena every year, so make sure you purchase your tickets ahead of time. Tickets are available through Ticketmaster online by visiting www.ticketmaster.com or by calling toll-free (800) 745-3000.

Seminar lineup. Take a break from the show floor to hear Farm Journal Economist Bob Utterback's thoughts on the direction of the commodity markets. Implement & Tractor columnist Greg Peterson will present a seminar on trends in used equipment values. Both 90-minute seminars are free to NFMS attendees. There will also be a live taping of the Marketing Roundtable segment of "U.S. Farm Report." All three events will be presented in the South Wing conference center Make a trip of it.
The machinery show lasts only four days, so if you already have someone lined up to handle your chores, take advantage of your time away from the farm and check out the activities Louisville has to offer. Home of Louisville Slugger baseball bats, the Kentucky Derby and educational centers, the city and surrounding area offer plenty to do.
Check out the websites listed below for more suggestions on attractions to visit and local restaurants. For additional information, you can call the Louisville Visitors Bureau at (800) 626-5646, visit www.gotolouisville.com or write to 1 Riverfront Plaza, 401 West Main St., Suite 2300, Louisville, KY 40202. See you in Louisville!
Know Before You Go
Check out these websites for more information when making your plans to attend the National Farm Machinery Show in Louisville, Ky.:
¦ National Farm Machinery Show www.farmmachineryshow.org
¦ Louisville Convention and Visitors Bureau www.gotolouisville.com
¦ Churchill Downs, home of the Kentucky Derby www.kentuckyderby.com
¦ Louisville Slugger Museum and Factory www.slugger.com/museum
¦ Kentucky Science Center www.kysciencecenter.org
¦ Louisville Zoo www.louisvillezoo.org
¦ Belle of Louisville riverboat cruises www.belleoflouisville.org
¦ Frazier History Museum www.fraziermuseum.org
¦ Thomas Edison House www.historichomes.org
¦ Howard Steamboat Museum and historic home www.steamboatmuseum.org
¦ Marengo Cave National Landmark on Blue River www.marengocave.com
¦ Locust Grove historic home www.locustgrove.org
¦ Farmington Historic Plantation www.historichomes.org
¦ Muhammad Ali Center www.alicenter.org
¦ Local restaurants found only in Louisville www.louisvilleoriginals.com
The Kentucky Exposition Center is at the junction of Interstates I-65 and I-264. Follow these directions to make your way to the Expo Center.
From I-65 northbound: Exit at Fair/Expo Center (Exit 131B). Follow signs to the main gate, Gate 1.
From I-65 southbound: Take Exit 132 to Crittenden Drive and merge to the left. Gate 4 to the Fair/Expo Center will be on the left. To enter Gate 1 (main gate), go past Exit 132 and continue approximately ¼ mile down I-65 to Exit 131B. Follow the Fair/Expo Center signs to Gate 1.
From I-264 westbound: Exit at the Fair/Expo Center (Exit 11) and follow the signs to Gate 1 (main gate). If you continue on I-264, you can exit at Crittenden Drive to enter Gates 2, 3 or 4. To access Preston Highway (Route 61), take Exit 12. Turn right off the exit ramp and follow Preston Highway to Gate 6, which will be on the left.
From I-264 eastbound: Exit at the Fair/Expo Center (Exit 11) to Crittenden Drive. Proceed to Gates 2, 3 and 4, which will be on the right. If you continue past the Crittenden Drive exit on I-264, exit at the Fair/Expo Center (Exit 12) and follow the signs to Gate 1 (main gate).
..................................
See Farm Journal Media's full coverage of the 2013 National Farm Machinery Show.