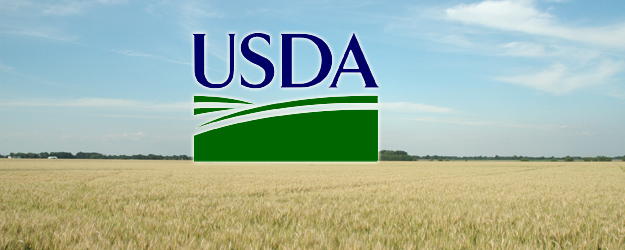 See all of the report data, coverage and analysis of the May 10 World Agricultural Supply and Demand Estimates and Crop Production reports.
News and Analysis
Old-Crop Carryover Hammers Corn Market
USDA surprised the corn market by adding to this fall's projected carryover, while the trade had expected the ending stocks estimate to go down.
 
AgWeb Radio: Closing Commentary 5-10-12
Logan Burgess of Grain Hedge said the report gave numbers that pulled corn lower. Soybeans continued to the upside based on the report. Wheat kind of an odd ball with markets not moving much. Domestic demand for wheat could increase with feed wheat being utilized.
 
AgWeb Radio: Midday Commentary 5-10-12
Bob utterback of Utterback Marketing the market on corn is down and soybeans are up and wheat is holding nearly steady.In corn the old crop july could go to 5.80 - 5.75. The market is very volatile and will probably continue tomorrow. Let it settle before trying to reposition yourself.
 
As Usual, USDA Reports Contain Surprises
Today's WASDE report contained some very bearish projections for corn, but the soybean and wheat forecasts have mixed implications.
 
AgWeb Radio: Opening Commentary 5-10-12
Mike Howlett of Top Third Ag Marketing says the ending stock supply demand report was friendly to soybeans, neutral to wheat and bearish to corn. At open, look for beans to be sharply higher, wheat to trade mostly even and corn to be as much as 15 lower.
Blog Commentary
Grain Hedge: USDA Projects Record Yield for 2012/13 Corn at 166 bu. per Acre

The Allendale Wake-Up Call: USDA Crop Report to be Released at 7:30 AM

The Ted Spread: Pre USDA Report Thoughts 
Reports
WASDE
WASDE: Record 2012/13 Corn Supplies
 
WASDE: Higher U.S. Soybean Production Predicted

WASDE: Larger Wheat Supplies, Lower Prices
 
WASDE: Tight Rice Ending Stocks
 
WASDE: Increase in Pork Production, Decrease in Beef
WASDE: Higher Supply, Demand for U.S. Cotton


Crop Production
May Crop Production: Winter Wheat Production Up 13%
The area expected to be harvested for grain or seed totals 35.6 million acres.
May Crop Production: Winter Wheat Harvested, Yield, Production
May Crop Production: Crop Area Planted, Harvested
May Crop Production: April Weather Summary
Live Discussion
Read what farmers are saying about the upcoming reports. See:
Marketing Old Crop and New Crop 2012

Find out what traders and others are saying about the reports on Twitter: AgWeb's Market Tweets
 
See how the reports are affecting prices. Visit the AgWeb Markets Center.
---