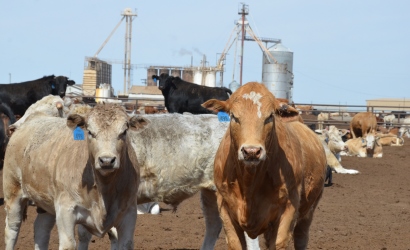 Cattle feeding has been a risky business the past few years with drought reducing herd numbers and fluctuating beef and corn prices making it difficult to gauge profitability. Feeding cattle has also come under fire from environmentalists for air quality and animal activists for handling practices. Despite those concerns feedlots play a major role in the success of the beef industry, but what will that role look like going forward?
Presenting on cattle feedings future at the Cattlemen's College was Pete Anderson, director of research at Midwest PMS, LLC. The Cattlemen's College is annually held during the Cattle Industry Convention that is being hosted in San Antonio this year.
"Feeding cattle will be more than just reputation and feeding experience in the future. It will require documentation," Anderson says.
Those high value cattle will be managed differently with revenue as the focus. Anderson says systems to improve the predictability of performance will come at a premium.
Here are some other take away points from Anderson's discussion:

Cattle Herd
We're not going back to 40 million beef cows. That means we're looking at the smallest fed cattle herd in modern.
Canada and Mexico aren't going to fix it either, because they are facing the same problem of declining herds.
Pork and poultry both had supply issues in 2013-14, but they are getting ready to push forward.
We were the highest priced protein before that, and 2014 only increased that difference.
Cattle are going to be worth a lot of money and beef is going to be worth a lot of money going forward.
When you have a shrinking cow herd, feed yards close. An empty yard is not a fun thing.
In the last six years 57 feedlots have closed or been emptied. While 12 have converted to heifer development, primarily for the dairy industry.
​Packers
"Who gets to stay in business one day longer than the feedyard? The packing plant."
Three major plants have closed in the past seven years:

2008: Tyson in Emporia, Kan.
2013: Cargill in Plainview, Texas
2014: National Beef in Brawley, Calf.
Who is next?

Three cow slaughter plants were closed in 2014.
​Genetics and Feeding
Since 1975, beef carcasses have improved 5.5 lb/year. Carcass weights will have to keep increasing to make up losses.
If you cull 2 million cows you're going to have genetic improvement because you got rid of some of the older genetics.
Genetics are the key to increasing carcass weight because consumer pressure will limit the use of technology like implants and beta agonists.
U.S. cattle industry must produce big, high value cattle to maximize revenue per unit. This is already well underway.
Custom feeding will continue to decline due to capital requirements and risk.
Branded beef programs are a way to put more value into cattle and they are growing.
​Exports
World population and economic growth are the greatest opportunity EVER in the beef industry.
India is the 2nd largest exporter of beef in the world and it isn't beef. Its water buffalo and much of it goes to China.
Think of what the Chinese market will be like when they stop eating water buffalo and they get the good stuff.
Exporting beef is a way better use of corn exports. It is easier to move beef than loading corn on a ship.
Beef industry must facilitate this by exporting some of our premium product and importing low cost, lean trim for grinding beef.