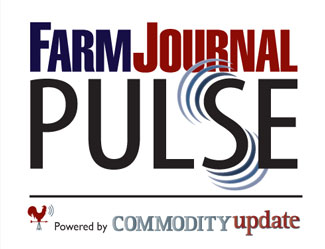 What Monsanto buying Syngenta could mean 
It's been a lingering question since April: Will Monsanto succeed in its quest to acquire Syngenta, the Swiss-based seed and crop protection company it has pursued since 2011?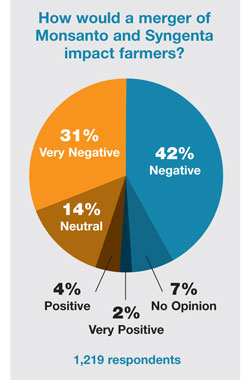 As of mid-July, no one knows. What is clear, though, is this deal—and the ongoing uncertainty—could reshape the industry in the U.S. and abroad.

From Monsanto's perspective, it's a good move. "I think the strategic rationale of combining the strongest seeds and traits portfolio with the strongest chemistry platform makes absolutely a lot of sense for farmers," said Brett Begemann, Monsanto's president and COO, in June. "When you look at the challenges agriculture faces, agriculture needs innovation to continue to drive productivity, and I think this is a really golden opportunity."

Syngenta disagrees, arguing such a deal would limit choice and competition for farmers. "Syngenta is a truly global company," says company spokesman Paul Minehart. "We span eight key crops and have a broad area of technology across crop protection, seeds and traits. Our sales in emerging markets are more than 50% of our total revenues. While the Monsanto seeds business is bigger, it is also much narrower. So putting the two companies together would only increase the critical mass in two key crops, corn and soybeans, and be focused on the Americas where Monsanto has strength."
The possibility of higher seed and input prices worries farmers.

"Pricing is an every year event," said Begemann, highlighting the influence of commodity markets on Monsanto's pricing. "This deal doesn't really change how we look at any of that."

Other seed companies share farmers' concerns about the deal. Monsanto controls 35% of the U.S. corn seed market, 29% of the soybean seed market and 16% of the pesticide market, according to J.P. Morgan. Adding Syngenta's crop protection products would create a global powerhouse.

DuPont Pioneer highlights those challenges in a statement to Farm Journal. "DuPont Pioneer believes industry consolidation must benefit the marketplace by increasing competition, innovation and choice for all growers. Our early assessment of the potential acquisition of Syngenta by Monsanto shows such a transaction has the potential to decrease competitive alternatives available to growers and lessen their ability to select the products and services they want."

Begemann has sought to reassure farmers that wouldn't be the case. "Whatever choice was available before the transition will be available after the transition. It may be from a different company, but the choices will be there," he told the United Soybean Board in July. 
To soothe regulators' antitrust worries, Monsanto has said it would sell Syngenta's seed business if the deal goes through. Wall Street analysts suggest Dow, Bayer or BASF might be interested in that business, but Begemann is not talking. 

Such assertions are met with skepticism at Syngenta. 

"The combination would create a dominant leader in the agricultural sector accounting for over 50% of a farmers' input cost on seeds and crop protection chemicals in a number of markets," Minehart notes. 

Brett Wong, a senior research analyst at Piper Jaffray, estimated in May the merger could generate as much as $2 billion in savings through reduced overhead and improved efficiencies. That could prove a difficult deal for investors to turn down.  

Should the merger happen, Minehart says the transaction would be subject to regulatory scrutiny in Argentina, Brazil, Canada, the European Union,  South Africa, U.S., and many other countries. Monsanto acknowledges it could take as long as 18 months. 

"With the new company operational by 2017 at best, a rejection of the transaction by antitrust authorities at that stage would be hugely destructive for the business and our shareholders," Minehart says.