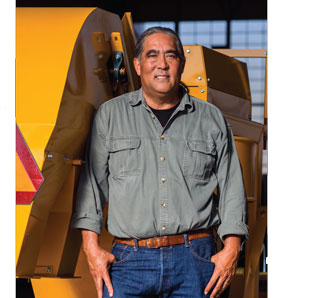 Operation specializes and opens door to diversification
A.G. Kawamura sees opportunities where few others can. While he's one of only a dozen or so farmers left in Orange County, Calif., competition for land is fierce because he contends with the land needs of 3 million residents. 

So when 100 acres came up for rent, he and his brother, Matt, jumped at the chance to farm it. 

The land located near part of their 1,000 acres would allow them to diversify their crop mix. The only catch: Some of it was under asphalt. 

The acreage is part of the Orange County Great Park in Irvine, Calif., a former Marine base. The area the Kawamuras now lease is broken up into 11 parcels thanks to crisscrossing runways and taxiways. Water is scarce, and cables and abandoned extraction wells are part of the soil profile. Before it became a military air base, it was the largest lima bean field in North America. 

"You have a hard time finding 40 acres around here," Kawamura says. It might be far from the ideal plot of land, but Kawamura and his brother, who own Orange County Produce, view these acres as a chance to return the land to agricultural production.

The acres also allow for experiments with progressive and unconventional agricultural practices, such as biofuel production via algae, hydroponics and the latest greenhouse technology. "We are trying technology and systems on a small scale that could be replicated on 80- or 90-acre fields," Kawamura says.

The conversion of a former military base to a working farm is the latest in a long history of innovation and entrepreneurship. The Kawamuras' grandparents left Japan at the turn of the century to make their home in California. 

They quickly became involved in agriculture, picking and packing oranges, sharecropping and running a farm fertilizer and supply company. Their farming aspirations were put on hold during World War II, when the family was relocated to an internment camp in Arizona. 

After the war, they founded the Western Marketing Company, which grew and shipped fresh produce such as lettuce, cabbage, celery and cantaloupes. By the end of the 1950s, the company operated in Arizona and in two locations in California. 

Their father, Genji, decided to consolidate the operations and move the family to Orange County in the 1950s. It was a rural community that was vibrant with fruit and vegetable production. A few decades later, the county shifted from a farming hotspot to an urban metropolis. 

Although the Mediterranean climate of California makes it phenomenal for production, limited rainfall and heavy environmental regulations make farming a major challenge.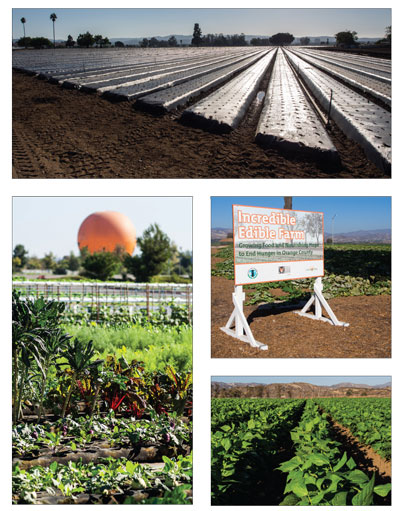 LEFT: The Kawamuras grow organic produce on leased land. TOP RIGHT: The five-acre Incredible Edible farm, a project of the Kawamuras, is expected to yield 300,000 lb. of food annually for a local food bank. Agriculture training is provided at the site. BOTTOM RIGHT: Green beans, along with strawberries, account for 80% of the Kawamuras' acreage. About 2,000 cartons of beans can be harvested daily at peak season.
Fearless Disruptor. These hurdles have forced the family business to make some tough decisions over time, Kawamura says. 

"Fourteen years ago, we were celery growers and had been for 50 years," he explains. "We were really good growers, but our costs were high because we rented the land and had to pay high water costs.

"Ninety miles south of us is Mexico, and 90 miles north is Ventura County, Calif.," Kawamura continues. "Those farmers had cheaper rent, cheaper water and no workers' compensation. We'd lose $1 on a box of celery, the guys up north would break even and the guys down south would make $1. We were hemorrhaging—we were the high-cost producer, and there was no way for us to differentiate our product."

They decided to leave the celery business and to stop growing sweet corn and zucchini. They streamlined production to include only strawberries and green beans, which generated value beyond input costs. 

Kawamura and his team are champions in overcoming what business theory calls disruptive events. "A disruptive event is an innovation or external change that either creates a new market or destroys an existing one in its value network," explains Craig Gordon, founder of Blueshift Research and a professor at Lehigh University in Pennsylvania.

Many times, disruptive events will make good companies fail, but Gordon says some companies can benefit. "The real key is innovation," he explains. "You can make lemonade out of possible disruptions by being flexible, listening to different points of view, knowing your strengths and weaknesses and recognizing shifts early."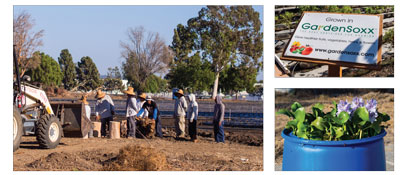 LEFT: Orange County Produce employs 250 people. Co-owner A.G. Kawamura is friendly, which, coupled with his ability to speak Spanish, has opened many doors. RIGHT: Rented acres allow the operation to try unconventional agricultural practices.  
Producing food feeds Kawamura's soul, yet his razor-sharp analytical mind and deep compassion for others guides business decisions. His ability to recognize trends has allowed him to not only survive but thrive. "While the number of farms and farmers shrunk in our area, the local-grown dynamic started to come into play," Kawamura says. 

Orange County Produce expanded production choices and gained a competitive advantage by supplying multiple farmers' markets, local restaurants, regional marketers and major chain stores wanting to source regionally and locally. 

"Twenty million people live within an hour and a half of our farms," Kawamura says. "Shame on us if we can't find the marketing niche to make that work to our benefit."

That's just what they've done. Orange County Produce is one of the few businesses in the region that can deliver same-day harvested food. Additionally, the Kawamuras have expanded their grandfather's and father's shipping business. 

Their strawberries end up in places as diverse as New York, Canada, Dubai and Singapore.
Although 80% of Orange County Produce's acres include strawberry and green bean production, Kawamura says, they grow 40 other crops on a small scale to explore market opportunities. 
Natural Leader. Kawamura joined the family business not long after graduating from the University of California, Berkeley with a Bachelor of Arts degree in comparative literature, English and Spanish. He's been with the business ever since, minus a seven-year stint as the California Secretary of Agriculture under Gov. Arnold Schwarzenegger.

Although he had never met Schwarzenegger before, Kawamura is active in many agricultural leadership organizations and was serving on the California State Board of Food and Agriculture at the time of his appointment. 

Kawamura says Schwarzenegger supported the state's agricultural industry during his time in office. 

"He grew up in post-World War II Austria," he says. "The infrastructure had been destroyed, so he understands as well as any leader in his generation what happens if you don't have reliable roads or a consistent supply of energy, water or food." 

Other state secretaries of agriculture have pleaded to get their governor to talk about agriculture, Kawamura says, but Schwarzenegger did it of his own free will. "He loved the fact that California agriculture was No. 1 in many category areas," Kawamura says. "He loved being No. 1 in anything."

Today, Kawamura is active in numerous organizations, such as Solutions from the Land, the Western Growers Association, 25 x '25, American Farmland Trust, the Native Pollinators Advisory Committee, AGree and the Council on Agriculture Science and Technology. Through these positions and his work at the Orange County Great Park, Kawamura is able to fill one of his life's missions—promoting agriculture. New generations of young farmers, as well as veterans, are being taught how to produce food via Orange County Produce's involvement at the park.

"We are creating ag jobs in the middle of the city," Kawamura says. "People want to be part of the food supply. When you grow up in an urban area, you do anything you can to promote farming." 
---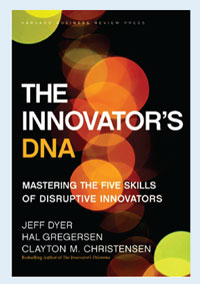 Hone Your Innovation Skills
California producer A.G. Kawamura can turn a problem into a solution, easily earning him the title of innovator. Although his story is unique, anyone can practice and enhance their innovative skills. In "The Innovator's DNA," authors Jeffrey Dyer, Hal Gregersen and Clayton Christensen showcase how individuals can transform disruptive events and intimidating situations into success. Through their research, the authors identified five skills and behaviors that yield innovative results.

Associating: Associational thinking means connecting things not previously associated. Children are naturally good at this; adults are not. Carve out time for associational thinking, and look to other industries for solutions to your operation's challenges. Download an idea-generator app that presents three seemingly unrelated words so you can practice looking for connections among them.

Questioning: Constantly ask questions such as, "What if?," "Why not?" and "What is keeping us from…?" When generating a new idea, gather team members, and take just 15 minutes to ask every possible question they can think of about a problem or possible solution. Gregersen terms this "questionstorming" and says the process will unlock multiple ideas and opportunities for your business.

Observing: Watch the world around you to identify new opportunities. Look for small behavioral details in the activities of customers, suppliers and other businesses in order to gain insights about new ways of doing things. 

Networking: This isn't networking for personal advancement; it is networking specifically focused on idea generation. Connect with people who are not like you, such as those with different backgrounds, experience in different industries and diverse perspectives. From these differences, new connections will arise. 

Experimenting: Make experimentation central to everything you do. Visit new places, try new things and seek new information. Travel beyond your farm gates to explore the world intellectually and experientially.