Naperville, IL – GEA Farm Technologies is once again leading the way in bringing innovative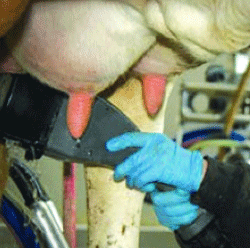 products to today's progressive dairy producers with the patent pending FutureCow Prep System. The FutureCow Prep System uses a mechanical brush unit to effectively and reliably wash, disinfect, dry and stimulate teats prior to milking.
"Prepping cows with the FutureCow Prep System accomplishes all of the necessary pre-milking procedures in one easy step," said Chad Buchanan, vice president of sales and marketing for GEA Farm Technologies, Inc. "Cows receive a consistent prep procedure, no matter who is milking, and superior stimulation. Plus, dairy producers can potentially reduce labor costs and can certainly reduce operating costs by eliminating towels and laundry."
GEA Farm Technologies is now the exclusive distributor of the FutureCow Prep System, which is manufactured by Alpha Technology USA Corp. "Alpha's proven success in the field and their progressive technology make them an excellent partner for innovative products such as FutureCow," Buchanan said.
"Alpha Technology is excited about the opportunity to partner with GEA Farm Technologies. We will be able to expand the availability of FutureCow and improve the technology that supports the system," said Kevin Dole, president of Alpha Technology. "Knowing that FutureCow is fully supported and installed by select GEA Farm Technologies dealers – who have unsurpassed dairy equipment experience – we maintain our commitment of providing producers reliable solutions that improve their dairy's profitability and performance."
The FutureCow Prep System can provide a significant return on investment. Because cow prep can be more streamlined and efficient, many dairies have been able to eliminate labor in the parlor.
Improvements in prep procedure efficiency lead to improved parlor efficiency. FutureCow users report that they have gained valuable time per milking shift, which can allow operators to milk more cows or perform other tasks during their shift. The consistency in prep procedures and superior stimulation that FutureCow provides can also improve milk flow rates and decrease milking times, which can further improve parlor throughput. 
Cleaner, healthier teats are less prone to mastitis. FutureCow's durable, yet soft, multi-layered brush set accommodates all teat lengths and assures that teat ends are properly cleaned before the milking unit is applied. Brush speed and pressure have been optimized for maximum stimulation, which contributes to less unit on-time and improved teat-end health.
GEA Farm Technologies provides a flat-rate billing program with the FutureCow product that is charged per cow, per month, and includes all consumables, regardless of usage. This assures producers a consistent, fixed cost that is easy to manage financially.
"Our mission is to simply help today's progressive dairy producers become more profitable," Buchanan said. "By bringing them products like the FutureCow Prep System, they can reduce their cost of doing business and improve their performance."
The FutureCow Prep System is fully supported and installed by select GEA Farm Technologies dealers carrying the WestfaliaSurge product line. For more information, contact GEA Farm Technologies at (877) 973-2479.