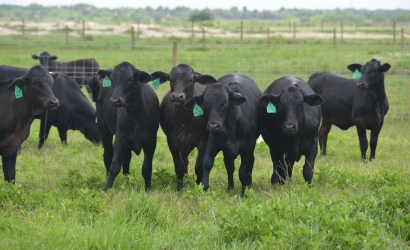 The current cattle industry climate points to probable increase in demand for replacement heifers, said Warren Rusche, SDSU Extension Cow/Calf Field Specialist.
"Beef cow inventories are at their lowest in decades and at the same time stronger cattle markets projected for the future," Rusche said.
With this in mind, Rusche said cattle producers need to begin to develop strategies to produce and identify those females that possess the genetics for the greatest probability of success.
"Genetic selection for superior beef replacements doesn't start when the heifers are chosen; the process begins much earlier when the sires for those heifers are determined," he said.
The industry has been very effective at identifying cattle with genetics that perform well in the feedlot and on the rail. Rusche said those traits still need to be considered because cattle are still sold by the pound.
"But a beef cow's primary job is to deliver a live calf, every year, for as many years and with as little grief as possible," he said.
To accomplish that objective, Rusche said factors beyond simple growth rate need to be considered.
One of the first considerations, Rusche lists, is identifying the seedstock provider. "Ideally the cows that produce the bulls used to generate replacements will run in conditions as tough, or tougher, than where their granddaughters will be expected to perform," he said.
Having cattle that are adapted to their environment as well as to the management systems on the ranch should help reduce the chances of cows culled due to reproductive failure.
A number of EPDs (estimated progeny difference) and indexes are available to describe differences in maternal performance. Depending on the breed these EPDs include:
Maternal Calving Ease
Heifer Pregnancy
Docility
Maternal Milk
Mature Weight
Stayability
Energy requirements ($EN for Angus, ME for Red Angus)
Maternal indexes ($W, Angus; API, Simmental; BMI$ and CEZ$, Hereford; and HerdBuilder, Red Angus)
"Although EPDs and selection indexes are powerful tools and should be the basis for genetic selection, old-fashioned "cow sense" plays a vital role as well," Rusche said.
Physical conformation and feet and leg structure affect cow longevity, which in turn affects the number of replacement heifers required to maintain herd size.
"Increasing cow longevity means that more heifers are available to sell or to grow cow numbers if desired," he said.
Individual production history of the dam of a potential herd sire can be very useful if available, especially for data such as the number of calves produced and average calving interval.

Source: SDSU Extension