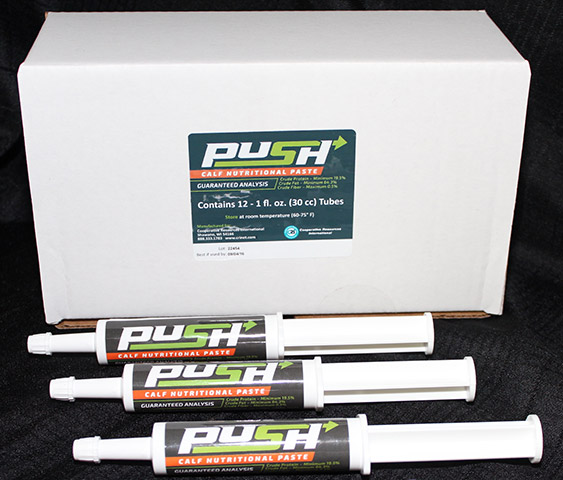 Dairy and beef producers can now give newborn calves a little extra boost of energy with Push™, a calf nutritional paste available from Genex Cooperative, Inc.
"Push provides newborn calves with a balanced blend of two key colostrum components – globulin proteins and milkfat," explains Katie Wolf, Product Program Manager, "When given to a calf immediately following birth, Push provides an extra burst of energy and helps to jumpstart the calf's immune system. It also further enhances the benefits of colostrum feeding."
While developed for newborn calves, Push is a valuable energy source in many situations where calves face stress or disease challenges. Provide Push when calves are:
Recovering from disease or infection
Not consuming adequate feed and acting lethargic
Transported long distances, become less alert and depressed
Scouring, not consuming feed and losing weight (if scouring, also provide an electrolyte such as NuLife® Oral Electrolytes to aid in fluid balance)
Not given adequate colostrum immediately following birth
For more information or to purchase Push, contact your local Genex representative, call customer service at 888-333-1783 or visit http://profitshop.crinet.com.
About Genex
Genex Cooperative, Inc., headquartered in Shawano, Wisconsin, is the trusted provider of world-class animal genetics, progressive reproductive solutions, value-added products and innovative services to members and customers across the U.S. This is accomplished through 950 dedicated employees working in three product and service segments: cattle genetics and reproduction, livestock marketing, and milking and farmstead equipment. Genex is a subsidiary of Cooperative Resources International. Learn more at http://genex.crinet.com.

Source: Genex Cooperative, Inc.