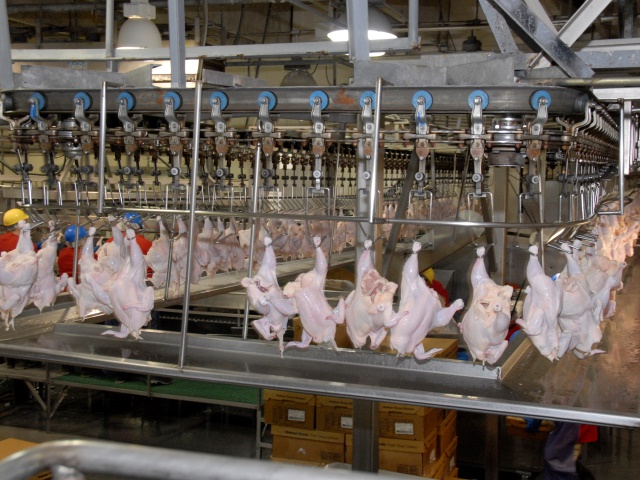 The Georgia Dock chicken-price index, an industry benchmark whose reliability has been questioned in recent months, won't be published this week because of a lack of data from participating producers, the Georgia Department of Agriculture said.
The department, which has compiled the index since 1972, had a "significant reduction" in participants after new reporting requirements were established, spokeswoman Julie McPeake said Wednesday in a telephone interview. She declined to comment on the number of producers contributing data, while saying the total was insufficient.
The index came under fresh scrutiny after the largest U.S. producers were named as defendants in a series of lawsuits filed since September alleging collusion to control supply and drive up prices, something the companies denied. The index has also been criticized by the director of Georgia Department of Agriculture's weekly chicken-price report, who complained of inadequate resources and a lack of cooperation from the chicken companies.
The gauge has been used widely to help formulate some of the sales contracts between producers and consumers. The wholesale value of the U.S. chicken industry's annual shipments is $60 billion, according to the National Chicken Council.
The Georgia agriculture agency asked participants to sign and return affidavits and attestations by Tuesday to confirm their data is accurate. McPeake said the department received some documents from some companies, while others may need more time. She declined to provide the names and exact number of participants.
Pilgrim's Prices
"We do understand we gave them a short turnaround," she said. "It is possible we may resume publishing the Georgia Dock in the future."
Pilgrim's Pride Corp., the second-largest U.S. chicken supplier. still is participating in the index. The company is "comfortable" attesting to the accuracy of its data, Chief Executive Officer Bill Lovette said Wednesday on a conference call with analysts.
Tyson Foods Inc., the biggest U.S. producer, submitted a signed affidavit to the state saying it "will continue to provide accurate pricing information to the index, as we always have," company spokesman Worth Sparkman said Wednesday in an e-mail.
"As part of our usual practice, we provided our company's data to the index this week," Sparkman said.
Sanderson Farms Inc., the third-largest producer, didn't immediately respond to requests for comment. The company said earlier in the week it was considering the request for affidavits.
Tyson fell 3.6 percent to $56.81 in New York. Pilgrim's dropped 3.8 percent to $17.61, the lowest closing price since March 2014.
Other Tools
The Georgia Dock quoted poultry price, published on Wednesdays, is an average of offering prices for birds weighing 2.5 pounds (0.5 kilogram) to 3 pounds. In the past, as many as 10 producers participated, including Tyson and Sanderson. Each company's data is weighted according to production capacity.
Georgia Dock has been an effective pricing tool for "select" chicken products historically, Pilgrim's Lovette said. Less than 5 percent of his company's U.S. sales are tied to the index, with customers choosing from a range of pricing tools, he said.
McPeake of the Georgia agency said it's the first time the chicken benchmark was suspended, according to current department officials. The state's new requirements also apply to data it collects for reports published on other days of the week, including the Georgia Preliminary Weighted Average Whole Bird Poultry Price on Thursdays, she said.
"Producers have been saying Georgia Dock plays only a small role in sales, and if so, the impact could be nominal," Vicki Bryan, a senior high yield analyst at Gimme Credit LLC, said Wednesday in a report. "We're not so sure, and already have taken a more conservative outlook in our estimates versus market consensus for revenue and profit" for Pilgrim's Pride through 2017, she said.