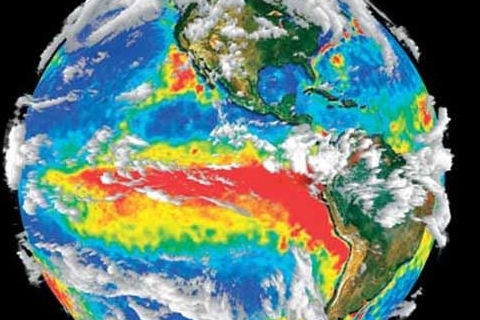 The El Nino that's developing around the world may last through this year, according to the Food & Agriculture Organization, the United Nations' body that seeks to ensure global food security.
The moderate-to-severe weather pattern will probably hurt world grain production, Mark Smulders, a senior economist and FAO representative to Indonesia, told a conference. Wheat output may drop 1.4 percent in 2015-2016, he said on Wednesday.
An El Nino was declared last month by forecasters in Australia, and farmers, scientists and investors are seeking to map the duration and intensity of the pattern can bring drought to Asia, wetter and cooler summers to parts of North America while crimping the frequency of Atlantic hurricanes. India said on Tuesday that the El Nino may contribute to a poor monsoon this season. Australia's Bureau of Meteorology on Wednesday raised the possibility the event may stretch into next year.
"There might be quite an impact on production and it may last until the end of the year," Smulders said in Jakarta. The event is developing along quite an unusual path as normally an El Nino would have peaked by now and be coming down again, but the current one is developing more slowly, he said.
El Ninos are caused by periodic warmings of the Pacific and can roil agricultural markets as farmers contend with drought or too much rain. India's monsoon rainfall may be 88 percent of a 50-year average, less than the 93 percent seen in April, Earth Sciences Minister Harsh Vardhan said on Tuesday.
NOAA's View
While episodes usually last nine to 12 months, some events may last for years, according to the National Oceanic and Atmospheric Administration. They often begin to form between June and August, peak between December and April, and then decay between May and July of the following year, it said.
Australia's Bureau of Meteorology, which said the current El Nino may be substantial, said in its regular forecast last week that similarities in the models that it tracks indicated a low likelihood of the event breaking down rapidly.
"Given the models are forecasting at least a moderate event right through until mid-spring, it would be very likely that we wouldn't see a breakdown until early 2016," said Andrew Watkins, manager of Climate Prediction Services at the bureau, referring to seasons in Australia. "Normally, it would break down in mid- to late-summer," Watkins said by phone.
The El Nino may last until May 2016, the Philippine Atmospheric Geophysical and Astronomical Services Administration said on May 29, adding that the event may moderate in August this year. Seven provinces in the country were affected by drought, while more than 50 had been hit by a dry spell, it said.