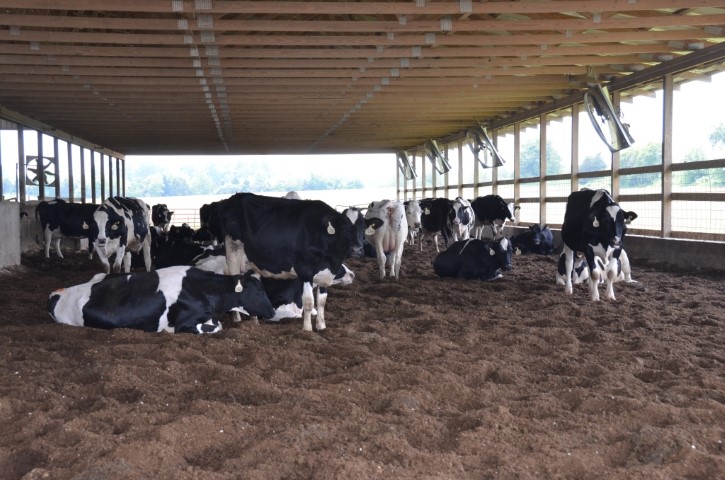 Compost, it's that decaying mixture of plants and other organic matter people sometimes use to fertilize their gardens. In Kentucky, compost has been more than just fertilizer and it's helping change the way cows are cared for.
At the beginning of 2014 Kentucky had about 80 deep compost bedded pack barns on the 734 dairies. Just a few years ago there were none. Dairy producer Bill Crist was one of those producers who leapt into compost pack bedding by building two new barns when he started his farm near Glasgow, Ky.
Prior to the move, Crist was milking two cow herds in a free-stall barn and pasture based system at separate farms. Now Crist is happy with the positive changes he's seen in his herd since the adjustment to compost pack bedding.
"Cull rates have gone down and we don't have the injured cows, so I love it," Crist says of the bedding system. "There are a lot of different reasons why our cull rate is low and it all comes back to the comfort level of the cows."
The compost bedded pack barn is a loose housing system. There are no stalls, just a large open resting area for the cows.
Compost bedding melds the best parts of Crist former housing systems. He has the ability to better monitor and feed cows like in the free-stall. Also, Crist has seen the feet and leg benefits that can be obtained with pasture grazing.
Reduced lameness has been one of the biggest benefits. "I hate to say lameness is non-existent, but the hoof trimmer was here in March and out of 500 cows he didn't have to put a block on one and it was the same last fall," Crist says. And heel warts are minimal.
Milk quality has been another area of improvement since moving into the compost bedded pack in September 2010. The prior housing types averaged 275,000 cells/mL on somatic cell count in the winter. During the summer, the pasture herd would jump up to 500,000 cells/mL while the free-stall cows were just above 300,000 cells/mL. Within six months of moving the cows to the new farm, Crist saw the average somatic cell count drop below 200,000 cells/mL. It hasn't risen since.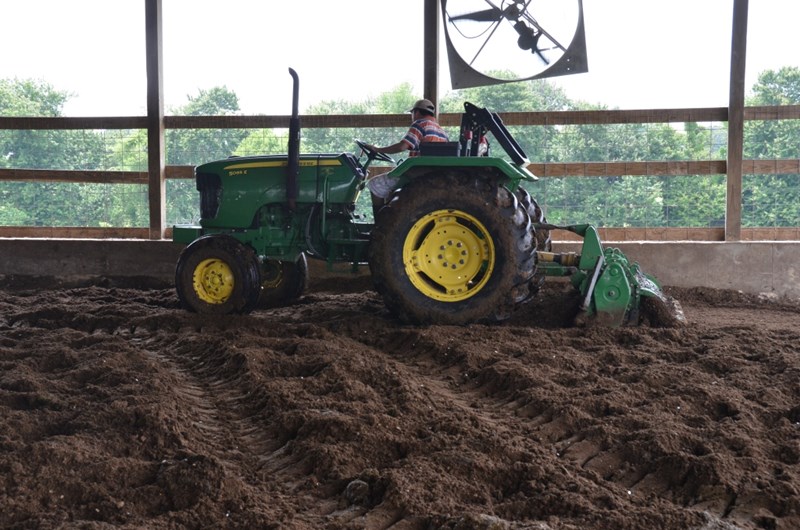 After each milking, the pack is tilled with a rototiller powered by a compact tractor. Sawdust called flour is added to the pack approximately once a week and is sourced from wood used in cabinet manufacturing.
"It still takes management and you've still got to work with it," Crist shares. "It's just as much work as a free-stall. If you don't till it you're going to be in trouble."
This past winter was particularly cold in Kentucky. To help keep the pack from freezing Crist had to till more frequently and add sawdust at least twice a week.
Another winter time issue is finding sawdust. Many of the saw mills use sawdust as a source of heat. During the holidays, it can also be difficult to find sawdust because the factories are closed.
Flexibility to make alterations to the barn may be another reason to look at the compost bedded pack, Crist says. If necessary, he can change his compost bedded pack barn into a free-stall, but he doesn't see that happening anytime soon.
The University of Kentucky has also been looking at deep compost bedded pack barns. It is currently in the process of constructing a new dairy. "I'm excited about the opportunity to have this in a research environment," says Jeffery Bewley, University of Kentucky assistant professor in dairy systems management.
Previous to coming on staff at the University of Kentucky, Bewley did not have the best perception of compost bedded pack barns. He associated the system with the straw bedded pack barn his grandfather used. New age compost barns are not that at all.
"In fact, we are intensively managing the compost process. When we manage that compost process correctly, it helps keep the cows dry and clean. It is a very different system than what I had in my mind," Bewley relates.
Compost pack bedding has been gaining popularity in Kentucky because of more mild winters, ease of access to reasonably priced sawdust, smaller herd sizes and the lower cost compared to other housing.
"We generally think about these barns costing 60% of the investment cost of a freestall barn," Bewley says. "That can be beneficial for new farmers or people who have only typically had cows on pasture."
Bewley does caution that the compost bedding pack is a biological system and must be treated as such. He recommends a pack temperature range from 110-150°F and moisture to be somewhere between 45-55 percent.
Producers need to stir packs frequently with either a plow or rototiller. If using a rototiller, there needs to be 12-18" of penetration to get the compost working.
"When these systems are managed well, we can have clean and dry cows. That's nice and we see some of the cow results that we expect when that happens," Bewley says. "I'm a big advocate of cow comfort and we can make all of these systems work."