United Nations General Assembly marks 2014 the International Year of Family Farming 
Farming is as vast as the world is big. Whether it's row crops in Illinois, spelt and barley in Italy or hogs in Swaziland, the heart of the family farm is the same.  

"It is time to recognize the important role of the family farmers who produce the food we eat every day and bring life to rural communities," says Barbara Ekwall, senior liaison officer for the Food and Agriculture Organization of the United Nations (FAO), Washington, D.C.

This year, the United Nations General Assembly is recognizing the more than 500 million family farms in the world by declaring 2014 the International Year of Family Farming (IYFF). 
The FAO is helping raise awareness of IYFF by focusing World Food Day on family farms. It will be held on Oct. 16. 

"The goal of World Food Day and IYFF is to raise awareness of family farming to create a better understanding of its needs, potentials and constraints to ensure technical support and inform policymaking," Ekwall says.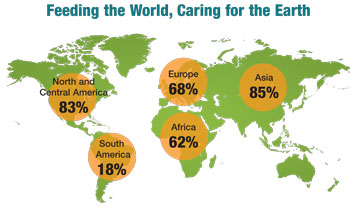 Family farmers work on a significant portion of the world's farmland, working hard to sustain high levels of productivity to feed a growing population.
The theme, "Family Farming: Feeding the World, Caring for the Earth," reflects the vital role family farms play in eradicating world hunger and providing food for a global market while being stewards of the land. 

"They invest in and take care of their land," Ekwall says. "For them, land, water, biodiversity and soils are not only means of production; they are the history of their ancestors and the future for their families."  

Family farmers work on 56% of the world's agricultural land and produce at least 56% of the food available.

"If we want to eradicate hunger, which is at the heart of FAO's mandate, then we need to focus on this group of people," Ekwall says. The movement reflects a major shift in the way family farmers are perceived worldwide. They are now seen as part of the solution to a number of global challenges and play a crucial role in raising agricultural productivity by 60% to feed an expected world population of more than 9 billion in 2050. 

Technological progress, capacity development, institutional support and infrastructure will enable family farms to feed a growing population. 
---
Join the Celebration
Take part in the global International Year of Family Farming effort by reading personal farm experiences at http://www.worldfooddayusa.org/perspectives_2014. 

If you use social media, don't miss the "Toast A Farmer" campaign coordinated by FAO/Washington and FarmOn Foundation. Grab a glass, toast a farmer, take a selfie, add a message in support of a farmer and post to the social media handle of your choice using the hashtags #ToastAFarmer and #WFD2014.  

For more information, visit http://www.fao.org/family-farming-2014/en/.