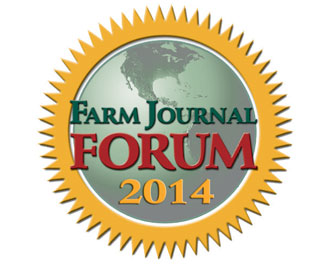 Farmers should build on agriculture's potential and fix logistical roadblocks
Just as a coach motivates his team before a game, U.S. Secretary of Agriculture Tom Vilsack delivered his own pep talk to agricultural leaders at the Farm Journal Forum in December. The annual gathering in Washington, D.C., brought together policymakers, farmers, economists and industry leaders to discuss the global possibilities for agriculture in the near and long term.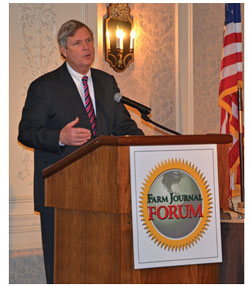 U.S. Secretary of Agriculture Tom Vilsack highlights his optimism for the future of U.S. agriculture. 
"It's not a time to hunker down or be cautious or woe is me," Vilsack said. "America is an amazing place. Yes, crop prices are down. But why are they down? It's a bumper crop. God has blessed us. It's even raining in California."

In the U.S., consumers are spending more money, businesses are making bigger investments, and the deficit is shrinking, noted Bruce Scherr, chairman and CEO emeritus of Informa Economics. "There's a lot of bearish talk" about the global economy and the impact on agriculture, he said. "I'm not so bearish. The U.S. economy is fundamentally strong." 

While other countries might not be in the same shape as the U.S., Scherr mentioned many positive economic developments, such as falling energy prices, population growth and small upticks in income that add up to economic gains. 

For example, China's economic growth is still forecast at 6.9% in 2015. "Can you imagine if we grew at 7%?" Scherr asked. "We would be dancing in the street." 

In terms of agriculture, Scherr said Informa expects demand to increase in 2015 for U.S. corn (13.580 billion bushels), thanks to higher exports, animal feed and ethanol usage, and lower production (13.449 billion bushels), due to lower acreage. With corn acres shifting to soybeans, Informa predicts near-record U.S. production of soybeans (3.941 billion bushels) and growing demand (3.799 billion bushels) for crush, exports, seed and residual in 2015 as well.  

Ethanol was a hot topic, given the uncertainty surrounding the Renewable Fuel Standard (RFS), but Vilsack urged the audience to think broadly about ethanol's economic potential.   

"Whether it's exports, Americans driving more, the Defense Department's purchases [of biofuel] or this new opportunity in commercial aviation [to provide bio-based jet fuel], I'm bullish on this industry," he said. "I know it creates jobs. I know it helps to stabilize crop prices because it increases demand. I know it provides consumer choices. I know it reduces costs overall, I know it reduces our trade deficit—and I know it makes us less reliant on other sources of petroleum." 

Vilsack is making the case for the agricultural economy to Wall Street, educating institutional investors about the reliable returns and low risks of rural infrastructure projects. 

"USDA has a $200 billion portfolio," said Vilsack, who hired New York-based investment firm BlackRock to evaluate USDA's holdings. "If we were a bank, we'd be the fifth- or sixth-largest in the country." 
Before U.S. farmers can feed the world's 9 billion people, they have some obstacles to address.

"Nobody in the world has the capability to serve global food needs like the U.S.," Scherr said. "But our logistics and handling system is woefully inadequate. Without the logistics capability, all that productivity will be for naught because we'll simply build up domestic inventories. If we are going to accomplish this global role of feeding the world on a profitable basis, I think we need more basic infrastructure that will let us ship 2 million or 3 million more bushels [of grain] than we are doing today."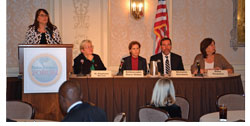 Farm Journal's Charlene Finck welcomes a high-powered international trade panel  to the 2014 Farm Journal Forum held in Washington, D.C.
Many farmers in the Corn Belt would likely agree, given the rail transportation problems and storage difficulties they encountered with this past fall's bumper crop, leaving them to bag grain or simply pile it on the ground after harvest.

The other stumbling block to exporting U.S. crops to nations in need? Biotechnology, which has met political resistance in Europe, China and other countries wary of genetically modified varieties of corn, hay and other crops. "It's not easy to talk about complicated science to the general public and gain their confidence about products they are going to eat," said Ambassador Darci Vetter, the chief agricultural negotiator for the Office of the U.S. Trade Representative, where she advocates for countries to follow a "science-based" approach to regulating biotech crops.  

The overlap between science and politics also emerges in another major challenge to agricultural productivity around the world: climate change. "It is a very, very polarized conversation," said keynote speaker Mike Stern, president and COO of The Climate Corp., which provides detailed weather data and agronomic modeling to farmers. "I'm concerned we get too caught up in the debate and don't do what we need to do in the near term."

It also worries government officials such as Sen. Debbie Stabenow (D-Mich.), who as outgoing chairman of the Senate Agriculture Committee knows how floods and droughts can impact farmers. "Nobody else has to worry about the weather when they put together their business plan," she said.

Vilsack knows that too, which is why he and his staff are developing practical strategies for farmers dealing with extreme weather events. 

"We need to do a better job of understanding our vulnerabilities as it relates to a changing climate," Vilsack said. "We [need to] equip our producers with the strategies and the technologies that will allow them to continue to be as extraordinarily productive as they have been. And then [we need to] share that information and knowledge with producers across the globe so that we meet the serious moral challenge of our time, which is feeding an ever-increasing world population."
The best way to move forward is simultaneously simple and complicated: Tell the story of agriculture.

"Growing up [on the farm], going out to check the calves … seeing that new life—that is something that the population is becoming less and less aware of," said Amelia Woods, who participated in the youth panel as a Tyson Foods Agriculture Ambassador. 

During her presentation on the farm vote, Sara Wyant of Agri-Pulse outlined the dramatic plunge in U.S. farm employment from 1840 to 2000. As rural populations dropped, the number of city dwellers has climbed, effectively shifting political power to urban areas.

As the new Congress takes up child nutrition, tax reform and other issues, the ag community will need to work closely with other groups. 

The Forum was made possible by support from premier sponsor Monsanto Company; supporting sponsors DuPont and Verdesian; media partner GW Planet Forward; and Connect partner CropLife America. 
For more news and highlights from the Farm Journal Forum, visit www.FarmJournal.com/Forum 
---
Words to Consider
"We realize we have been given a platform … to advocate for agriculture."
—Greg Peterson, Peterson Farm Brothers, on their viral farm parody videos

If there is a lesson in the farm bill, it is that success comes from a broad coalition of interests.
—U.S. Senator Debbie Stabenow (D-Mich.)