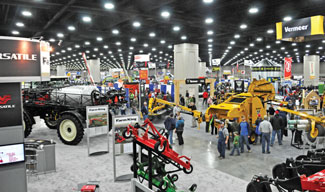 50 years and counting for National Farm Machinery Show
What began as a humble electricity demo and exhibit in the mid-1960s has morphed through the years into the nation's largest indoor farm show. The National Farm Machinery Show (NFMS) celebrated its 50th 
anniversary in style this year, bringing more than 850 agricultural displays under one roof at the Kentucky Exposition Center in Louisville.

"This is a celebration year," says Rick Rippetoe, president and CEO of the Kentucky State Fair Board. "Anything that lasts 50 years is iconic."

With a record-breaking 310,000 visitors venturing around 1.2 million square feet of exhibit space, NFMS is never short on new farm machinery and technology. Rippetoe says the show's continued relevance is not just about new products, however.

"It's also an opportunity to network and talk about issues today and for the future," he says.
One clear trend at this year's NFMS was the prominence of midsize tractors, thanks to the livestock sector.

"We're talking 125 PTO horsepower tractors and down, as well as the hay equipment that goes with it," says Todd DeBock, segment leader at New Holland.

A January 2015 retail report from the Association of Equipment Manufacturers shows sales of larger four-wheel-drive tractors are down nearly 65% from a year ago. However, 40 hp to 100 hp tractor sales are up 12%, and under-40 hp tractors are up 18%. All told, farm tractor sales are actually up 6% from a year ago. Smaller equipment manufacturers are hopeful that momentum will continue.

"This year, in the under 100 hp, we expect that industry to be up a couple of points," says Stephen Barcuch, Kubota marketing director.

On the other hand, there is less confidence large equipment sales will experience a near-future rebound.

"The problem with that is: It's on the back end, not the front," says Greg Trame, global product manager with GSI. "If the cash flow isn't there up front to make the investment, it doesn't help."

The 2015 NFMS also gave attendees a chance to meet and listen to several experts at two special Farm Journal Media seminars and to attend a live taping of "U.S. Farm Report."

Greg Peterson, commonly known as Machinery Pete, shared insights on how to be a smart buyer and seller this year. For the past seven years, auction prices increased in the fourth quarter, he says. This wasn't the case in 2014, but average auction values remain steady—above expected performance.

Overall, Machinery Pete sees the market returning to a previous rhythm.

"If you're looking to buy, prices will likely remain soft after St. Patrick's Day and into September. But the number of auctions will likely decrease," he says. "Then, a key driver for the fourth quarter will be Congress acting on Section 179."

In order to garner top dollar for sales, Machinery Pete advises personalizing your equipment. "This spring, capture cell phone video of your machinery in the field. Then, when the time comes to sell that machine, be sure to note video footage is available," he suggests.

You'll be surprised by how powerful video, detailed photos and maintenance records can be as selling tools, he says.

At a separate seminar, Farm Journal economist Bob Utterback discussed four unresolved "market unknowns" that could make a major impact on grain prices for 2015 and beyond. Those include high national debt, increased demand from a rising global population, weather and a potential crude oil price rebound.

For example, Utterback says it's reasonable to expect oil to climb back to $60 a barrel by the end of the year and up to $75 to $80 in the next two years."Buy oil now and protect your input price," he advises.

Continuing the bullish versus bearish conversation, Utterback participated in a live taping of a "U.S. Farm Report" Marketing Roundtable, along with Matt Bennett, market analyst with Bennett Consulting, and Mike North, market analyst with Commodity Risk Management Group. Hosted by Tyne Morgan, the discussion addressed the growing season ahead, exports and everything in between.
Did you miss out on this year's NFMS? Mark your calendars for the 2016 event scheduled for Feb. 10-13. 
For complete online coverage of the 2015 National Farm Machinery Show, including some of this year's tractor pull contestants, visit www.FarmJournal.com/nfms_2015
---
Tractor Pull Appeal
An undeniable highlight of the National Farm Machinery is the annual Championship Tractor Pull. This year marked the 47th annual contest, which is sponsored by Syngenta and supporting sponsors Horsch and Dixie Chopper. It's America's oldest indoor tractor pull, with around 70,000 fans attending this year.

The tractor pull includes five total pulls, with drivers competing for the grand champion title. The winners shared nearly $250,000 in total prize money. Each year, more than 500 teams apply for only 180 spots. This year's list includes all reigning grand champions, as well as a record number of female drivers.